For those of us who live in Georgia, we either forget or don't know about the ecological and geological specialness of this part of the U.S. For example, my undergraduate students here in Atlanta often talk dreamily about their desire to visit the Amazon River basin, Costa Rica, Kenya, Australia, or other places far removed from Georgia, beguiled as they are by the exotic "other" qualities of those places with their biota and landscapes. On the other hand, almost none of these students have been to the Okefenokee Swamp, the Blue Ridge Mountains, the Cumberland Plateau, the long-leaf pine forests of Ichauway, or the Georgia barrier islands, unless my colleagues or I have taken them there on field trips. Yet these places, especially those with freshwater ecosystems, collectively hold a biodiversity nearly matching that of the Amazon River basin, an evolutionary consequence of the long geologic history of the Appalachian Mountains.
To be fair, I have likewise found myself succumbing to such place-based deflection and lack of appreciation for what is more-or-less in my backyard. In 2001, I realized that I had been to Brazil (three times) more often than Fernbank Forest (two times), even though Fernbank was only a five-minute bicycle ride from home in Decatur, Georgia. This imbalance was soon corrected, though, and many visits later, I learned to appreciate how this old-growth southern Appalachian forest in the middle of metropolitan Atlanta is a gem of biodiversity, every native species of plant and animal a facet testifying to their long evolutionary histories. Still, I wonder why we often ignore what is nearby, even if it is extraordinary?
Related to this quandary is one of the most common questions I encountered from friends, family, and colleagues while writing my book – Life Traces of the Georgia Coast – which was, "Why are you, a paleontologist and geologist, writing about the traces of modern plants and animals in Georgia?" This is a legitimate inquiry, but my answer surprises most people. I tell them that my main reason for staying here in Georgia to study the tracks, trails, burrows, nests, and other traces of its barrier islands is because these traces and their islands are world-class and world-famous. This high quality is directly linked to the biodiversity of the Georgia barrier islands, but also their unique geological histories compared to other barrier-island systems. Furthermore, these islands have inspired more than a few major scientific discoveries related to modern ecology and geology, some of which, made nearly 50 years ago, are still applicable to diagnosing the fossil record and the earth's geologic history. In short, the Georgia barrier islands and their traces also reflect a legacy recognized by scientists far outside the confines of Georgia.
How so? I'll explain in upcoming posts, and hope to demonstrate how the marvelous ecosystems of the Georgia coast and its geological processes are the proverbial gift that keeps on giving, continually helping us to better understanding the earth's geologic past. Now that's special!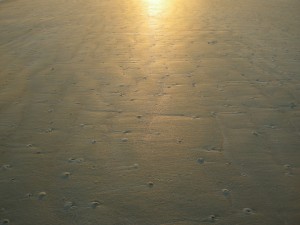 Burrows at dawn: a partial view of the thousands of ghost-shrimp burrows dotting a Georgia beach at low tide, their entrances looking like tiny volcanoes. What makes these burrows so important, scientifically speaking, and why are they something that would cause scientists from outside of Georgia to travel and see in person? Photo by Anthony Martin and taken on Sapelo Island, Georgia.