Last week, while in Athens, Georgia, I found myself musing about footprints from the barrier islands of Georgia and the Cretaceous rocks of Australia, despite their separation by half a world and more than 100 million years. These seemingly random thoughts came to me during a visit to the Department of Geology at the University of Georgia to give a lecture in their departmental seminar series.
It was a pleasure speaking at the geology department for many reasons, but perhaps the most gratifying was how it was also a homecoming. I had worked on my Ph.D. there in the late 1980's, and in 1988-1989 had taught introductory-geology classes in the very same lecture hall where I gave my presentation. Several of my former professors, who were junior faculty then, are still there and now comprise a distinguished senior faculty. So seeing them there now, their smiling faces in the audience along with the latest generation of undergraduate and graduate students, generated all sorts of warm-and-fuzzy feelings.
But enough about the present: let's go back about 100 million years to the Cretaceous Period, which was the subject of my talk. I had actually asked to speak about the modern Georgia barrier islands and their traces: you know, the main theme of this blog and my upcoming book of the same title (Life Traces of the Georgia Coast, just in case you need reminding). Nonetheless, my host and valued friend, paleontologist Dr. Sally Walker, figured that a summary of my latest research on the Cretaceous trace fossils of Victoria, Australia would bring in a wider audience, especially if I used the magical word "dinosaur" in the title (which I did).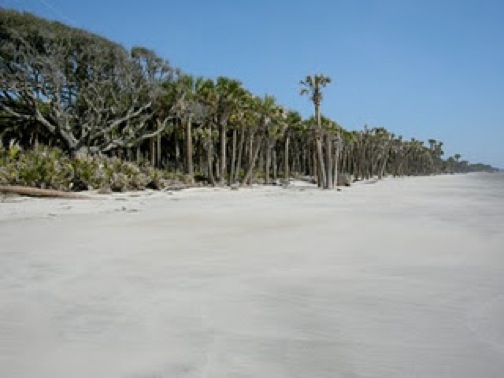 For my talk at the UGA Department of Geology, I could have talked about this place – St. Catherines Island, Georgia – and it's modern traces. After all, it's only about a four-hour drive and short boat ride from Athens, Georgia.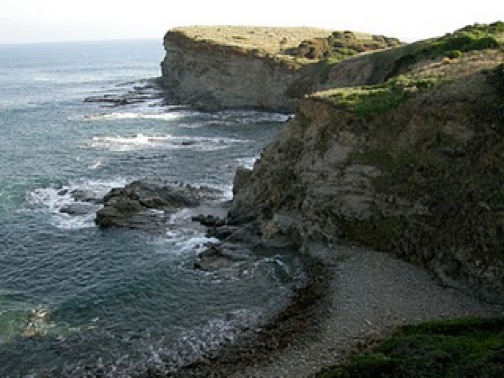 But instead I talked about this place – coastal Victoria, Australia – and its trace fossils from more than 100 million years ago. Which wasn't such a bad thing.

In retrospect, she was right, and I thoroughly enjoyed putting together an informative and (I thought) entertaining presentation that shared highlights of fossil discoveries from that part of Australia during the past five years. For the benefit of the students in the audience, basic geology was woven throughout the talk, as I included facets of sedimentology, stratigraphy, geochemistry, paleobotany, paleoclimatology, plate tectonics, evolution, history of science, field methods, and oh yes, dinosaurs. (If you are interested in hearing more about the science and personal experiences behind these recent findings in Australia, these are related in another blog of mine written previous to this one, The Great Cretaceous Walk.)
So how do the barrier islands of the Georgia coast and their animal traces relate to the Cretaceous of Australia? I mentioned the main reason briefly in my talk, but will elaborate more here: I likely owed one of my most important fossil discoveries in Australia to track-imprinted memories gained from field work on the Georgia coast. The fossil find, which happened in June 2010, was of about two dozen thin-toed theropod dinosaur tracks in Cretaceous rocks along the Victoria coast. These tracks represent the best assemblage of dinosaur tracks found thus far in southern Australia, and the largest collection of polar-dinosaur tracks in the Southern Hemisphere. Moreover, some of these tracks just happened to be about the same size and forms of footprints made by sandhill cranes (Grus canadensis).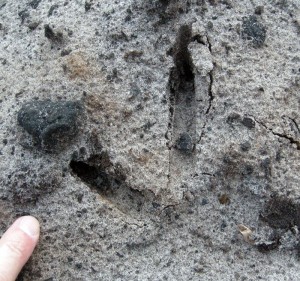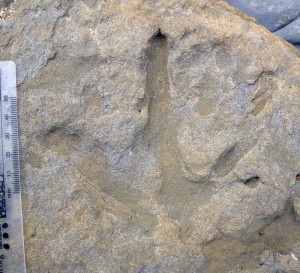 Comparison between the footprint of a sandhill crane (Grus canadensis), made in moist sand next to a freshwater pond, St. Catherines Island, Georgia (top), and a footprint made by a theropod dinosaur about 105 million years ago on a river floodplain, Victoria, Australia (bottom). Notice the resemblance?
Sandhill cranes do not normally live on the Georgia barrier islands, and nearly all of them simply fly over or stop briefly during their annual migrations from south of Georgia to the Great Plains, or vice versa. However, at least a few have settled on St. Catherines Island, the same place on the Georgia coast where I recently studied gopher tortoise burrows. According to Jen Hilburn, the island ornithologist, some of these cranes found life so comfortable on the island that they stayed. This turned out to be fortunate for me, as I became familiar with their tracks after repeated visits to St. Catherines. Even though these tall, beautiful, and majestic birds restrict themselves to just one island year-round, St. Catherines is big enough to hold a wide variety of habitats and substrates, so I have seen their tracks in salt marshes, next to fresh-water ponds, and along dusty roads throughout the entire length of the island.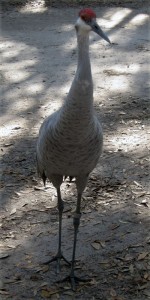 Who are you calling a "dinosaur"? A sandhill crane on St. Catherines Island graciously poses for its portrait, helping this ichnologist get a better idea of what an anatomically similar tracemaker might have looked like more than 100 million years ago.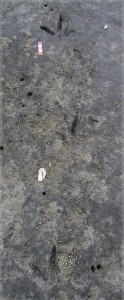 Sandhill-crane trackway on the sandy substrate of a high salt marsh, St. Catherines Island, Georgia. In this environment, its tracks are accompanied by fiddler-crab burrows and feeding pellets, as well as the tracks and dig marks of raccoons hunting the fiddler crabs. Scale (toward the top of the photo) in centimeters.

So to make a long story short, while walking along the Victoria coast last year, I also carried with me mental picture of these tracks in Georgia. These images, I am sure, contributed to my stopping to look at a rock surface that held faint but nearly identical impressions made by dinosaurian feet on the once-soft sediments of a river floodplain. This is how ichnology is supposed to work, and it did.
A comparison between sandhill-crane tracks on the Georgia barrier islands and those of Cretaceous dinosaurs in Australia is actually not as far-fetched as one might think at first. For one, we now know that birds are dinosaurs, evolutionarily speaking. This formerly vague hypothesis is now a certainty, and is based on an ever-improving fossil record of feathered theropod dinosaurs, as well as studies from modern biology that show genetic and developmental affinities between modern birds and theropods. Even so, this idea is not new, either. For example, evolutionary biologist Thomas Huxley (1825-1895), friend and noted proponent of Charles Darwin, readily connected Archaeopteryx, the Late Jurassic bird (or dinosaur, depending on evolutionary perspective) with theropod dinosaurs.
Preceding Huxley, though, was one of the first scientists to formally apply ichnology to fossilized dinosaur tracks, Edward Hitchcock (1793-1864). Hitchcock interpreted the abundant dinosaur tracks of the Connecticut River Valley – many made by theropods – as those of large, flightless birds that lived before humans. Although he never made the evolutionary connection between dinosaurs and birds, his hypothesis reflected anatomical similarities between their feet.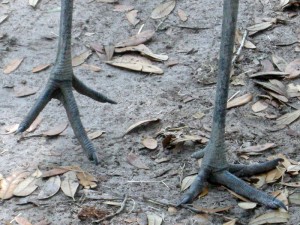 A close-up look at sandhill crane feet while it takes a step. Notice the left foot has a little toe facing backwards, but off the ground. This is the equivalent of our "big toe," also known as digit I, and it rarely registers in their tracks unless a crane walks in soft mud or sand. Instead, you will see impressions of the other three toes with clawmarks, and the middle toe normally makes the deepest mark.
Theropod dinosaurs, like many modern birds, mostly made three-toed tracks, a condition also called tridactyl. Although theropod tracks are occasionally confused with similar tracks made by ornithopod dinosaurs, they have the following traits: (1) three prominent, forward-facing digit impressions; (2) a footprint that is longer than wide; (3) angles of less than 90° between the outermost digits; and (4) well-defined clawmarks. One of the many changes that happened to bird feet as they evolved from non-avian theropods was the dropping of and rearward projection of their first digit (equivalent to our big toe). This condition was a great adaptation for grasping branches in trees and otherwise getting around off the ground. Bird tracks from the Cretaceous Period also tend to be wider than long, a function of the angles between the outermost toes becoming greater than 90°, and most of these also show the impression of a backward-pointing toe.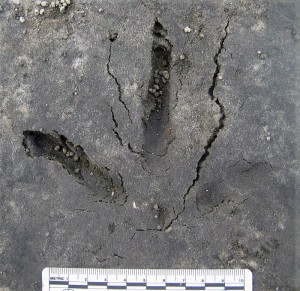 Sandhill-crane footprint made in firm sand of a high salt marsh, St. Catherines Island, Georgia. Like many bird tracks, this one is wider than it is long, which is unlike most theropod dinosaur tracks. Still, these are very similar to tracks made by certain types of thin-toed theropod dinosaurs during the Cretaceous Period. Scale in centimeters.

Much later in their evolutionary history, though, some lineages of birds became either flightless or otherwise spent more time on the ground than in the trees, such as wading birds and shorebirds. These circumstances resulted in their first digit becoming reduced or absent, or vestigial. Violá, the tridactyl theropod-dinosaur footprint came back in style, so to speak, and now dinosaur ichnologists regularly study the tracks and behaviors of birds with such feet to better understand how their theropod relatives may have moved during the Mesozoic Era.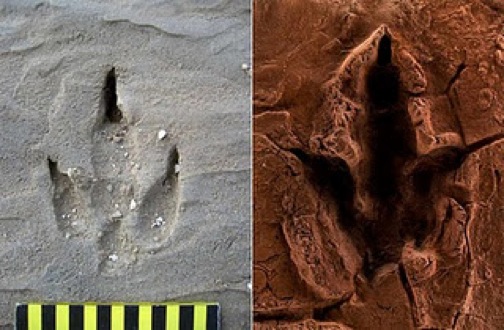 Comparison of a track made by a greater rhea (Rhea americana, right), which is a large flightless bird native to Argentina, to that of an equivalent-sized theropod dinosaur track (right). Both tracks have three forward-facing digits ending with sharp clawmarks and are longer than wide. Scale = 15 cm (6 in). The dinosaur track is a replica of an Early Jurassic theropod (from about 200 million years ago) from the western U.S. Photograph of the rhea track is by Anthony Martin, and of the dinosaur-track replica is by Ty Butler of Tylight™. Scale in the photo to the left = 15 cm (6 in).

Thus while writing the research paper on the dinosaur tracks, I kept in mind the comparison between sandhill-crane footprints in Georgia and the Australian dinosaur tracks. I also recalled how paleontologists had previously measured theropod skeletons – feet and rear limbs, specifically – and proposed a relationship between foot length and probable hip height.
Based on these studies, you can take a theropod track, multiply it by 4.0, and you get the approximate hip height of its trackmaker. When I applied this calculation to the Australian tracks, their hip heights ranged from about 25 to 60 centimeters (10-23 inches). The smallest of these dinosaurs I imagined as chicken-sized; perhaps these were juveniles of the larger ones. But what might be living today that would compare to the largest of the trackmakers? Immediately I thought of herons, but then it struck me that sandhill cranes provided a more apt analogy.
So I think you know where this is going. Adult sandhill-crane tracks are about 12 centimeters (4.7 inches) long, so if you apply the same formula for theropod-dinosaur tracks to them, their hip heights should be 48 centimeters (19 inches). Would this relationship also hold up on a modern dinosaur, such as a sandhill crane?
Just to satisfy my curiosity, I wrote to Jen Hilburn (St. Catherines Island) and asked her to do me a little favor: could she measure the hip height of a living, adult sandhill crane for me? Fortunately, Jen carried out my unusual request (she said it was not easy, so I definitely owe her), and she wrote back with an answer: 58 centimeters (22 inches). This wasn't a perfect fit with regard to the footprint formula, but it certainly worked for the size of the Australian dinosaurs I had in mind as trackmakers. Based on my study of the Australian tracks, they were made by small ornithomimids, which likewise made thin-toed tridactyl tracks.
After thanking Jen, I delighted in explaining how her measurement of a Georgia-island-dwelling sandhill crane related to a dinosaur-track discovery on the other side of the world. Furthermore, in the Emory University press release that accompanied the publication of the dinosaur-track discovery in August 2011, the reporter (Carol Clark) used my analogy of the trackmakers as "…theropods ranging in size from a chicken to a large crane."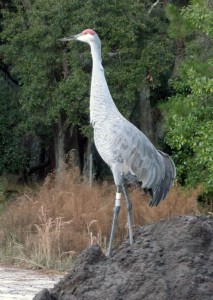 Sandhill crane walking down a sand pile next to a fresh-water pond and maritime forest on St. Catherines Island, Georgia, and leaving lovely tracks for an ichnologist to study and keep in mind while tracking non-avian theropod dinosaurs.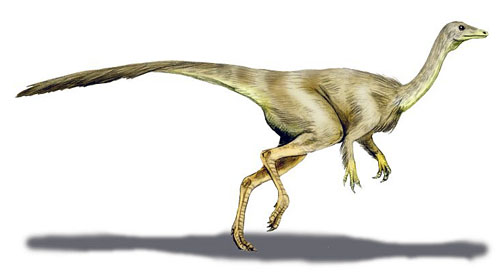 Artist conception of Struthiomimus, a Late Cretaceous non-avian theropod dinosaur from western North America. Although not a perfect fit, the tracks of cranes and other similarly sized birds can be compared to those of ornithomimid dinosaurs to better discern the presence and behaviors of these dinosaurs. Artwork by Nobu Tamura and from Wikipedia Commons.
What other modern traces from the Georgia coast will contribute to our better understanding the fossil record? Time will tell, and I hope some day to again share those thoughts at my former home – the Department of Geology at the University of Georgia – with friends, students, and colleagues, new and old.
Further Reading
Elbroch, M., and Marks, E. 2001. Bird Tracks and Sign: A Guide to North American Species. Stackpole Books, Mechanicsburg, PA: 456 p.
Forsberg, M. 2005. On Ancient Wings: The Sandhill Cranes of North America. Michael Foreberg Photography: 168 p.
Henderson, D.M. 2003. Footprints, trackways, and hip heights of bipedal dinosaurs: testing hip height predictions with computer models. Ichnos, 10: 99–114.
Johnsgard, P.A. 2011. Sandhill and Whooping Cranes: Ancient Voices over America's Wetlands. University of Nebraska Press, Lincoln, NB: 184 p.
Lockley, M.G. 1991. Tracking Dinosaurs: A New Look at an Ancient World. Cambridge University Press, Cambridge, UK: 264 p.
Martin, A.J., Anthony J., Rich, T.H., Hall, M., Vickers-Rich, P., and Gonzalo Vazquez-Prokopec. 2011. A polar dinosaur-track assemblage from the Eumeralla Formation (Albian), Victoria, Australia. Alcheringa: An Australiasian Journal of Palaeontology, article online August 9, 2011. DOI: 10.1080/03115518.2011.597564