This past week, I visited North Carolina for varied reasons, but all related to paleontology and geology. First, I gave a well-attended evening lecture about polar dinosaurs, graciously invited and hosted by the Department of Geography and Geology at the University of North Carolina-Wilmington (UNCW). Later in the week, I presented a poster at the Society of Vertebrate Paleontology (SVP) meeting in Raleigh (covered last week here), while also taking in a couple of days of talks, posters, and enjoyably catching up with paleo-friends while meeting neo-friends. Regrettably, I had to leave the meeting early, but with good reason, which was for a field trip to look at fossils in a Pleistocene outcrop near Wilmington with faculty and students from UNCW. Overall, it was a fulfilling week, teeming with paleontological and social variety.
This pithy summary, though, omits lots of details (and if it didn't, then it wouldn't be pithy). But one item worth explaining a bit more here was a brief trip to Wrightsville Beach, which is a barrier island was just east of Wilmington. Dr. Doug Gamble, a geography professor in the UNCW Department of Geography and Geology, offered to take me there just before my talk, which I eagerly accepted. Considering all of the field work I had done on the Georgia barrier islands to the south of there, and that I would be teaching a course on barrier islands next semester, going to this beach was an opportunity to learn more about the similarities and differences between Georgia and North Carolina beaches.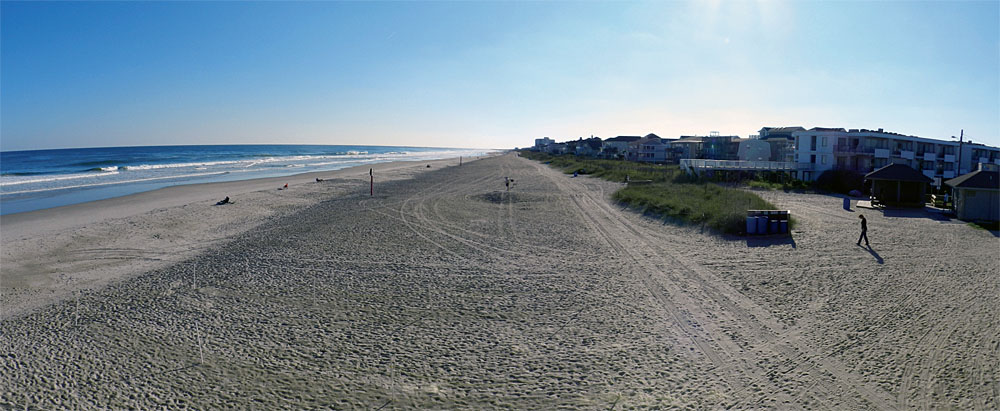 Panorama of Wrightsville Beach on the coast of North Carolina, replete with human locomotion traces and dwelling structures. These features make it very different from most beaches in Georgia. But what about other traces? Don't you just love rhetorical questions? Including this one? (Photograph by Anthony Martin.)
Many North Carolina beaches are famous (or infamous) as examples of what can go wrong with unrestrained development of barrier islands. Many such case studies have been explored through the research, writings, and activism of geologist Dr. Orrin Pilkey of Duke University, as well as other coastal geologists who have looked at the effects of human alterations of these habitats. Wrightsville Beach is such a barrier-island beach, having  been heavily modified by human activities during the past 150 years or so. When comparing it in my mind to the Georgia barrier islands, it most resembled Tybee Island, which is also next to a relatively large city (Savannah), easily accessible by a bridge, and developed as a sort of "vacation destination" for people who like beaches, but also want them to have all of the amenities of the places they left behind. Otherwise, it held little resemblance to the mostly uninhabited and undeveloped beaches I prefer to peruse on the Georgia barrier islands.
After driving over the bridge to the island, we walked onto the beach in several places, and I began looking for traces. At first there was little to see, which was a direct result of there being too much to see. Because it was a pleasant day and we were visiting in the afternoon, much of the beach had been heavily trampled by humans, with more than a few of these people aided in their bioturbation by canine companions. Obvious restructuring of the beach included a jetty at the north end that combined a concrete wall and boulders, and pilings of concrete blocks at the south end. Dunes were modest, low-profile, and capped by sparse stands of sea oats (Uniola paniculata), and behind these were hotels, condominiums, and houses, all chock-a-block. It would be too strong to say this beach was alien to me, let alone post-apocalyptic, but it did seem like an altered reality compared to my experiences in Georgia.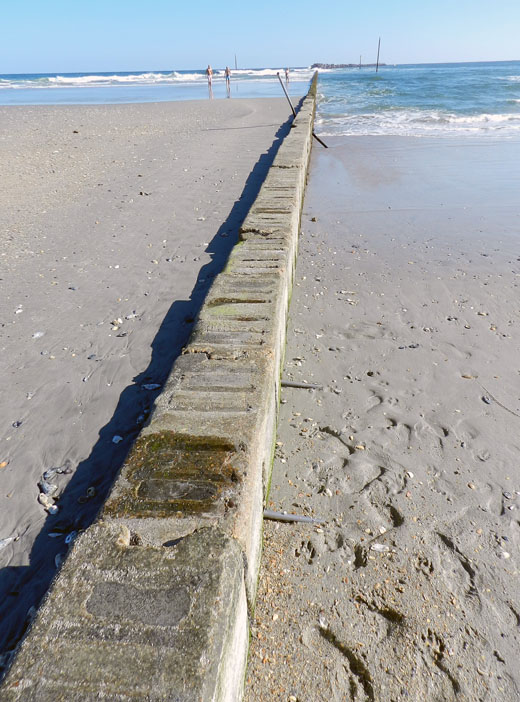 A jetty at Wrightsville Beach (North Carolina) composed of concrete and rocks, intended to preserve sand on the beach, which it is doing here, but also results in an imbalanced distribution of sand along it. Note the abundant human and canine tracks on the right, shouting out any other animal traces that might have been in the sand. (Photograph by Anthony Martin.)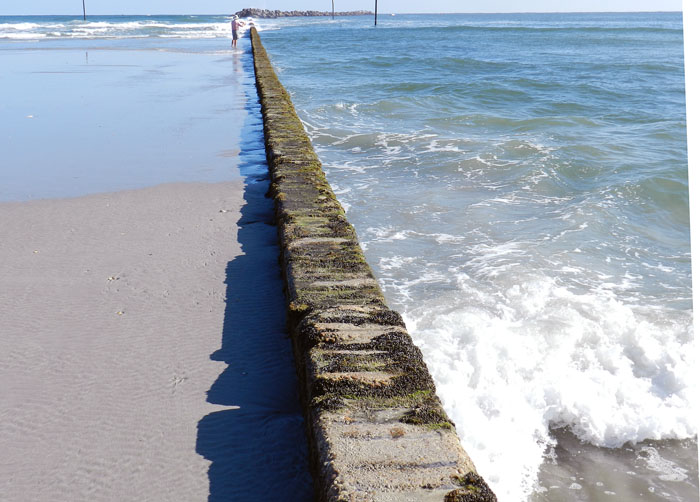 Another view of the jetty at Wrightsville Beach, sharply contrasting sand deposition and erosion on either side of it. (Photograph by Anthony Martin.)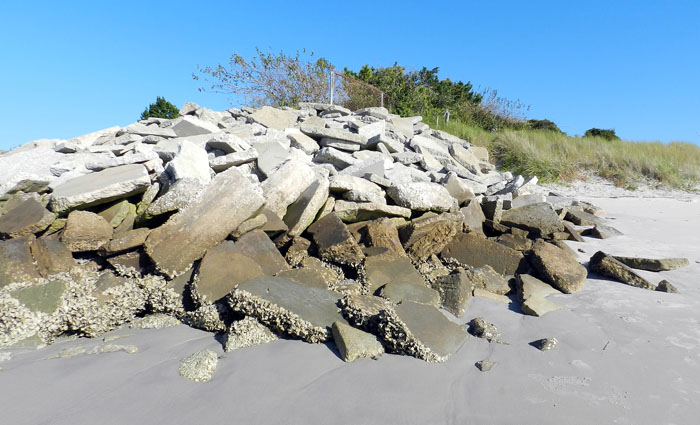 A pile of broken concrete being used as rip-rap at the south end of Wrightsville Beach in an attempt to slow erosion there. Or something. (Photograph by Anthony Martin.)
Only with more walking toward the south end of the beach did we see less of an overwhelming human-dog ichnoassemblage and start noticing signs of the native fauna. With this, I became comforted by the familiar. These traces included some I had seen many times on Georgia beaches, including: the soda-straw-like burrows of parchment worms (Onuphis microcephala); the volcano-like sand mounds and chocolate-sprinkle-like feces of callianassid shrimp (either Biffarius biformis and Callichirus major); the soft-serve-ice-cream-like fecal mound of acorn worms (Balanoglossus aurantiactus); and the hole-in-the-ground-like burrows of ghost crabs (Ocypode quadrata). (OK, so I ran out of metaphors.) Seagull tracks abounded as well, lending more of a dinosaurian flavor to the trace assemblage.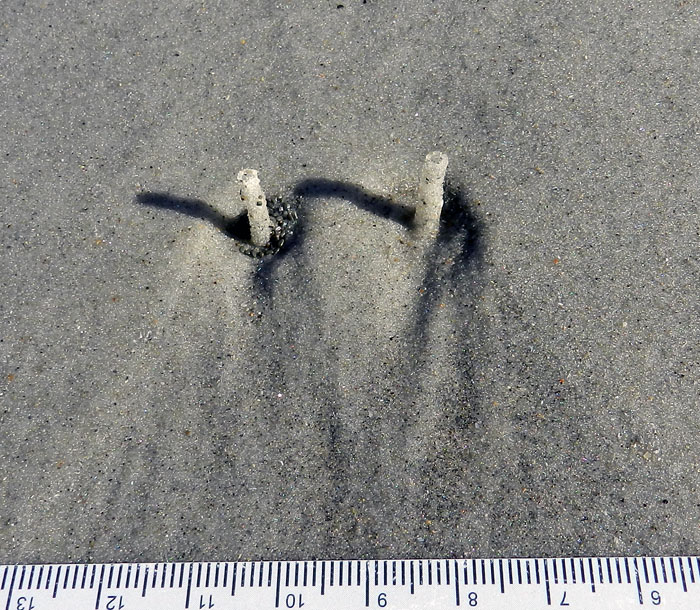 Two burrows of parchment worms (Onuphis microcephala) on Wrightsville Beach, exposed by a little bit of erosion, with tiny fecal pellets at their bases. Scale in millimeters. (Photograph by Anthony Martin.)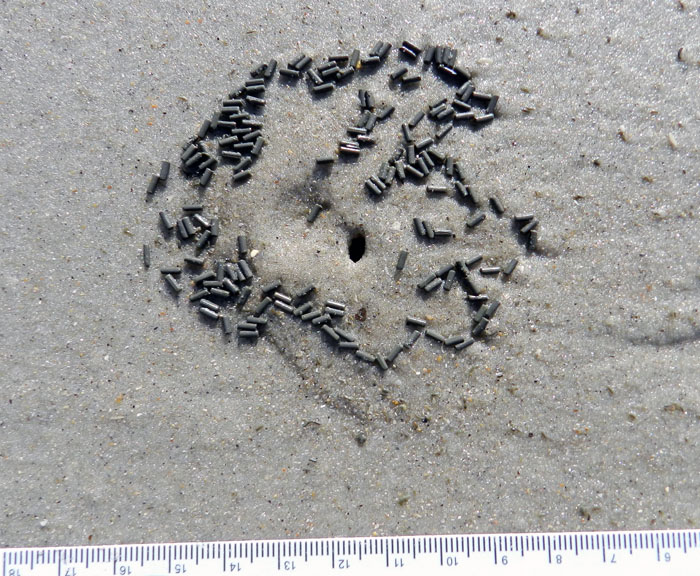 Burrow aperture and fecal pellets of a ghost shrimp (either Biffarius biformis or Callichirus major) on Wrightsville Beach. Scale in millimeters again. (Photograph by Anthony Martin.)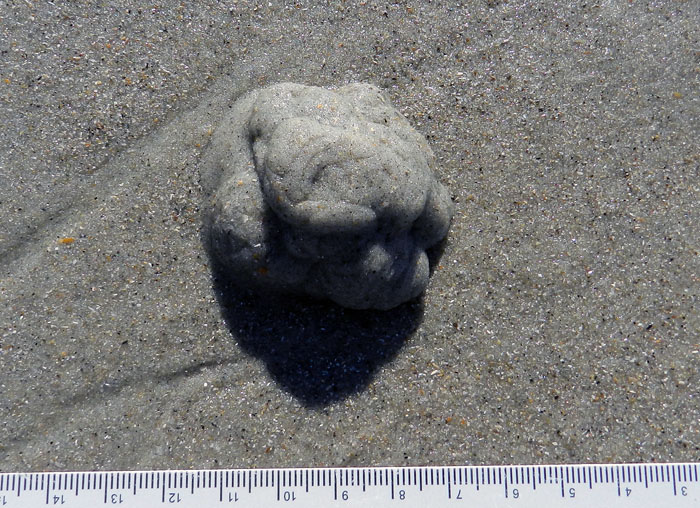 Fecal casting of an acorn worm, and probably that of a golden acorn worm (Balanoglossus aurantiactus) on Wriightsville Beach. One end of its burrow is underneath this pile, and that would be its anal end, which is sensibly located in a different place from its oral end. And I think you know the scale by now. (Photograph by Anthony Martin.)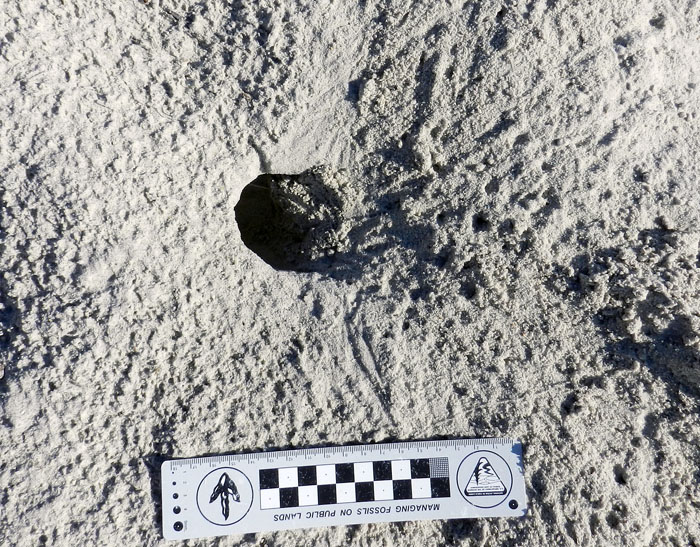 Ghost crab (Ocypode quadrata) burrow and tracks, out of the intertidal zone and more into the dunes on Wrightsville Beach. (Photograph by Anthony Martin.)

These traces thus showed us that this North Carolina beach, one majorly changed by humankind during the past 150 years, actually was more biodiverse than one might think at first glance. In my mind, then, it became just a bit more wild through these signs of life hinting at what laid beneath our feet.
At this point, I could depress everyone by listing what traces and biota were not there, but that's not the point, so I won't. In a more progressive sense, what traces we saw represented traces of hope, of life hanging on despite environmental change, living almost invisibly beneath our feet. So as human development continues on beaches like these, and sea level rises through the rest of this century, I felt assured of their being survivors of this change, and of their traces outlasting our humanity. The trace fossils of the future are now, and recording our effects on the life that makes these traces. How many will wink out with our species, and how many of their marks will outlast us?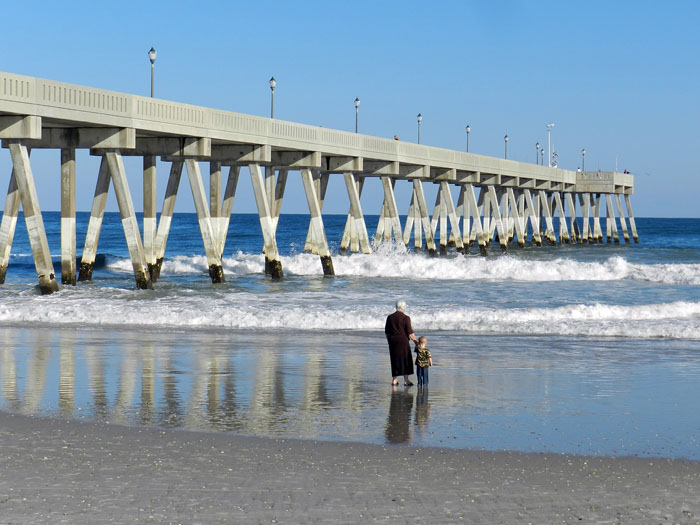 An intergenerational stroll – a grandmother and grandson? – alongside the pier on Wrightsville Beach in North Carolina. Did she have memories of this beach in her childhood? How do these compare to what she sees there now? What memories will this child have of it in the future, especially as the sea continues to rise? If these memories are not recorded, what will be left behind? (Photograph by Anthony Martin.)
Further Reading
Pilkey, O., and Fraser, M.E. 2005. A Celebration of the World's Barrier Islands. Columbia University Press, New York: 309 p.
Thieler, E.R., Pilkey, O., Cleary, W.J., and Schwab, W.C. 2001. Modern sedimentation on the shoreface and inner continental shelf at Wrightsville Beach, North Carolina, U.S.A. Journal of Sedimentary Research, 71: 958-970.