This past Friday, I very happily received the first complimentary copy of my new book, Life Traces of the Georgia Coast from Indiana University Press. After years of field observations, photographing, writing, editing, drawing, teaching, and speaking about the plant and animal traces described in this book, it was immensely satisfying to hold a physical copy in my hands, feeling its heft and admiring its textures and smells in a way that e-books will never replace. So for any doubters out there (and I don't blame you for that), here is a photograph of the book: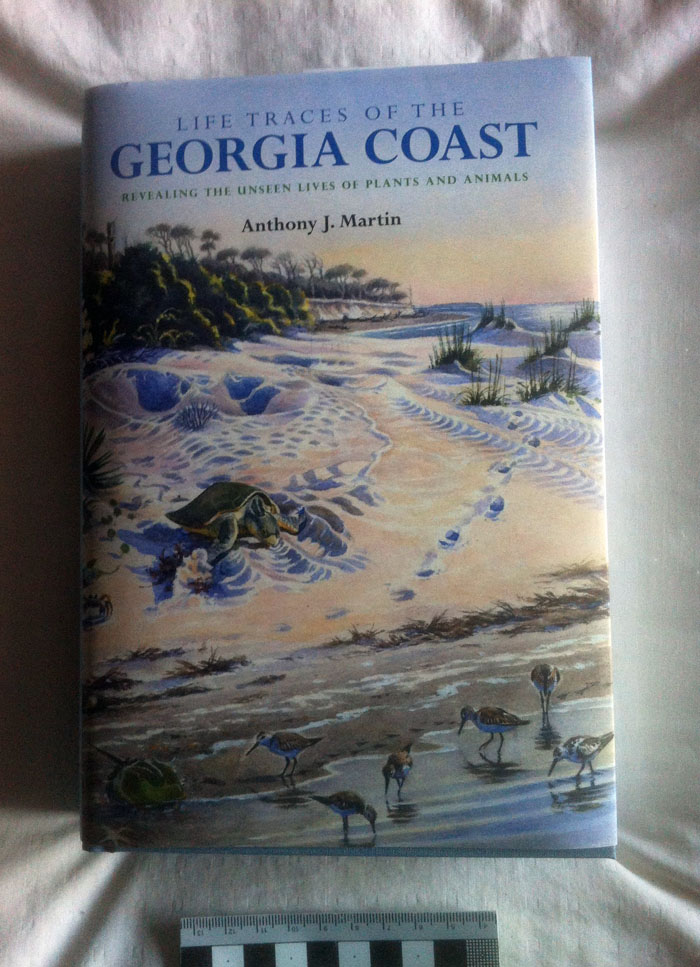 A photograph, purportedly documenting the publication of at least one copy of my new book Life Traces of the Georgia Coast. Photo scale (bottom) in centimeters.
Still, given that a photograph of the book only constitutes one line of evidence supporting its existence, I knew that more data were needed. So of course, I turned to ichnology for help. After all, a 692-page hard-cover book should also make an easily definable resting trace. Here is that trace, formed by the book in the same spot shown previously.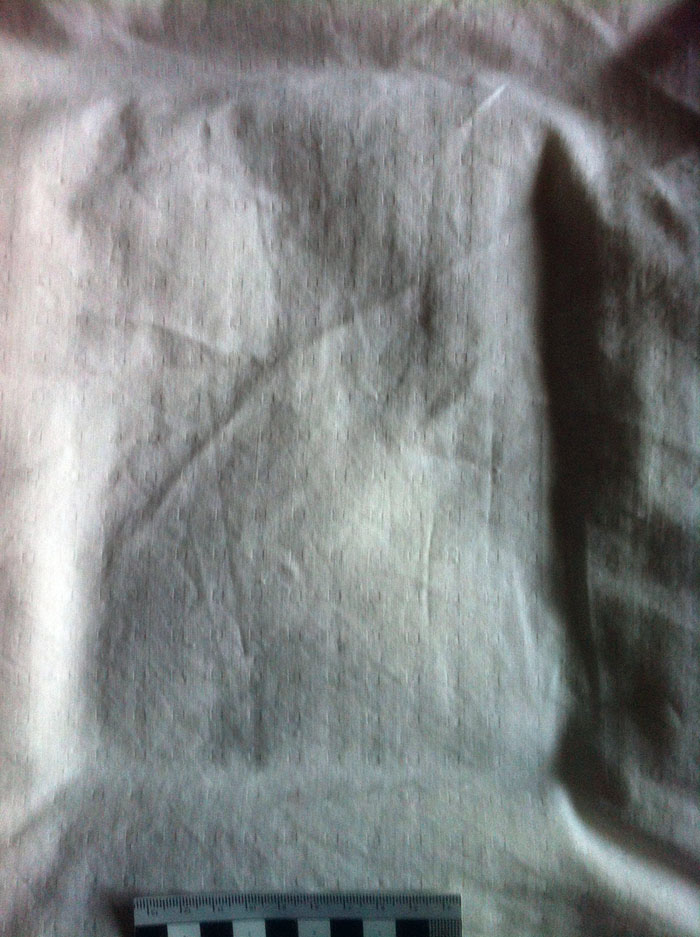 Ichnological evidence supporting the existence of my new book, Life Traces of the Georgia Coast. Using the "holy trinity" of ichnology – substrate, anatomy, and behavior – as guides for understanding it better: the substrate is a bedspread; the "anatomy" is the 6 X 9″ outline of the book, with depth of the trace reflecting its thickness (and mass); and the behavior was mine, consisting of placing the book on the bedspread and removing it. E-book versions of the book should make similarly shaped rectangular traces, although these will vary in dimensions according to the reading device hosting the book.
However, I also admit that hard-core skeptics may claim that such photos could have been faked, whether through the manipulative use of image-processing software, or slipping the cover jacket onto a copy of Danielle Steel's latest oeuvre. As a result, the best and perhaps only way to test such a hypothesis is for you and everyone you know to buy the book (which you can do here, here, or here). Or, better yet, ask your your local bookstore to carry copies of it, which will also help to ensure the continuing existence of those bookstores for future book-purchasing and ichnological experiments, including books of other science-book authors.
Lastly, just to make this experiment statistically significant, I suggest a sample size of at least n = 10,000, which should account for inadvertent mishaps that may prevent deliveries of the book, such as lightning strikes, volcanic eruptions, or meteorite impacts. Only then will you be able to assess, with any degree of certainty, whether the book is real or not.
Thank you in advance for your "citizen science," and I look forward to discussing these research results with you soon.
Suggested Further Reading
Martin, A.J. 2012. Life Traces of the Georgia Coast: Revealing the Unseen Lives of Plants and Animals. Indiana University Press, Bloomington, Indiana: 692 p.