With the much-awaited publication of my new book (Life Traces of the Georgia Coast), it's now time to talk about it. Fortunately, I've had plenty of time to prepare for this part of the launching of the book, which is one advantage gained from its publication taking longer than originally anticipated. (I'm not complaining, just saying.)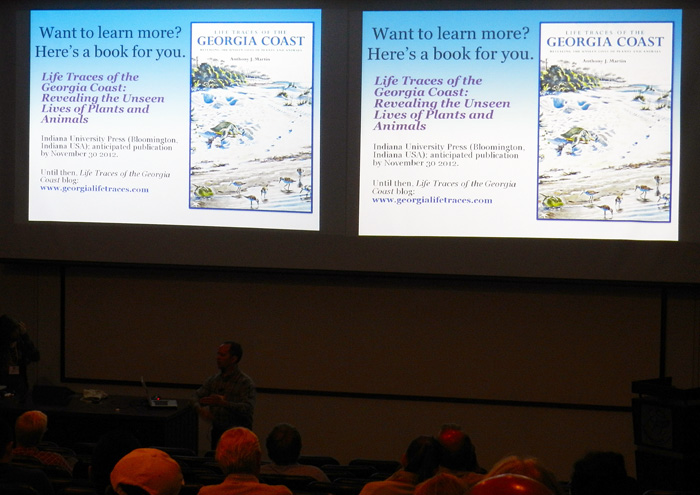 A brief preview of my book, which I gave to my peers in August as a 20-minute talk at the International Congress on Ichnology meeting (Ichnia 2012) in St. Johns, Newfoundland, Canada. Please note that all subsequent talks about the book will not involve audience members to be screeched in, although folks attending my talk to the Atlanta Science Tavern event on January 26 might be tempted. (Photograph by Ruth Schowalter.)
But what's been most exciting about this process is the overwhelmingly positive reception to my inquiries about giving talks. Amazingly, no one (so far) has said "no" when I asked if I could speak. This is a lesson for other authors who might be organizing public presentations on your own, without the financial or logistical support of a trade-book publisher: pick what you think are the right venues for speaking about your book, then ask. Until then, you never know who will agree that having you speak about your book would be a fine idea.
I am also blessed with a very good infrastructure for giving talks here in Georgia, particularly in the metro Atlanta area. Despite all of the tired jokes about banjo music – along with urging participants to accompany this music with porcine sounds  – Atlanta has a thriving scene of science and natural history enthusiasts. This intellectual richness is exemplified the Atlanta Science Tavern, which was even noticed by some out-of-town newspaper for its "Mars Landing Party" last July.
Lastly, the subject of the book is of great interest to many people in Georgia, especially those who have been to its barrier islands. More than a million visitors are estimated to visit the Georgia coast each year, with many of those driving the 4+ hours from Atlanta to get there. Of these million people, at least a few walk along a beach or marsh, or hike through a maritime forest, and see traces made by the animals that live there on the islands, prompting  them to ask, "I wonder what made that?" For those folks and more, these talks are for you.
Here's my current schedule of appearances for the next few months, but be sure to check in once in a while on this Web site for updates. Hope to see you at one or more of these events!
Wednesday, January 23, 4:00 p.m., Emory University, Atlanta, Georgia. Talk title: Big Burrows through Ecospace and Time. This talk is part of the Department of Environmental Studies Seminar Series for the spring semester, 2013; all seminars are in Math & Sciences Building, Room N304. Free and open to the public.
Saturday, January 26, 7:00 p.m. – Atlanta Science Tavern, at Manuel's Tavern, Atlanta, Georgia. Talk title: Exploring Tracks and Prints, Marks and Holes on Georgia's Barrier Islands. Preregistration required, $3 suggested donation. This event is currently FULL, but you can put your name on the waiting list through the preceding link.
Tuesday, February 5, 7:00 p.m. – Georgia Center for the Book, DeKalb Public Library, Decatur, Georgia. Talk title: Life Traces of the Georgia Coast. Free and open to the public
Saturday, February 16, 5:30 p.m. – Jekyll Island Green Screen Event, Jekyll Island Convention Center, Jekyll Island, Georgia. Poster presentation (along with other presenters) summarizing some of my latest research on the Georgia barrier islands (exact title of poster to be updated later). Free and open to the public.
Sunday, February 24, 3:00 p.m. – Andalusia, home of author Flannery O'Connor, in Milledgeville, Georgia. Tentative talk title: Tracks and Traces of Flannery O'Connor's Favorite Birds. Free and open to the public.
Sunday, March 24, 2:30 p.m. – Fernbank Museum of Natural History, Atlanta, Georgia. Tentative talk title: Tracking Exotic Mammals on the Georgia Coast. Admission fee applies if you're not a member of the museum, but the lecture is free with admission.
P.S. Bookstores, just remember, if you invite me to speak in your store, I will bring your employees this. Consider yourselves bribed.