On this Christmas of 2013, I thought that the second-to-last post of my "On the __th Day of Ichnology" series would be a gift, one speaking of the beautiful harmony we sometimes are so fortunate to see recorded in the sands of the Georgia barrier islands. The traces composing this gift are the tracks of a male-female pair of river otters (Lutra canadensis).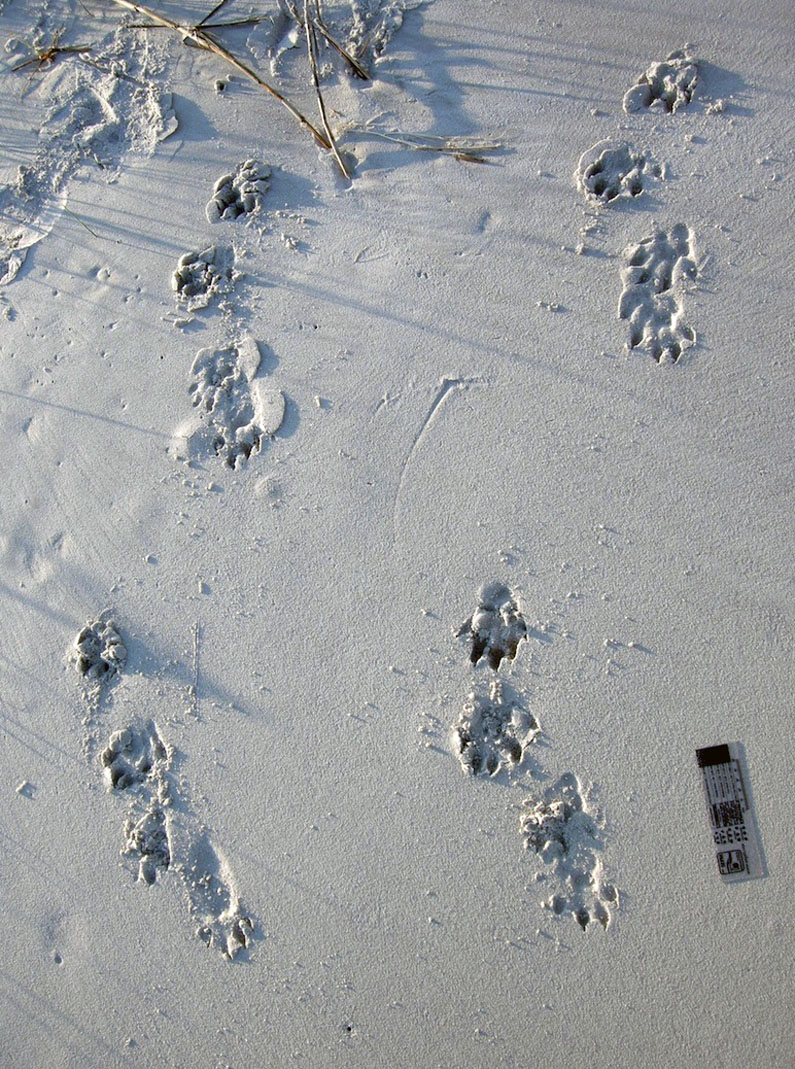 Synchronicity expressed in traces: a pair of river otters, running and turning together along a Georgia beach. (Photograph by Anthony Martin, taken on St. Catherines Island, Georgia; scale is about 10 cm (4 in) long.)
A normal gait for river otters is a lope, which registers as a 1-2-1 pattern, in which one rear foot is in front, a rear and front foot are next to one another, and a front foot is behind. However, in this instance, I think both otters were galloping, as it looks like both rear feet exceeded their front feet, and a well-defined space is in between each set of four tracks.
What really struck me about these tracks, and made me gasp with joy when I saw them, was their near-perfect symmetry and how they hint of one otter reacting to the other otter's movement. I can't say for sure right now what evidence lends to my discerning the following interpretation (sorry, fellow scientists). But my hunch is that the otter on the left was running just in front of the other, maybe separated by a body length at this point, and then turned just slightly to her/his left. The otter on the right was galloping to catch up, saw its partner turn to the left, and decided to turn her/his body in response to this change in direction. Notice how the gap between their trackways is narrowed just a bit, and how the tail of the second otter left an arc-like impression on the sand that points directly to the next set of tracks.
Such a gorgeous set of traces, left by a species we humans often revere (or envy) for its love of play! But I also found these tracks even more gratifying for how they told of two otters linked to one another, perhaps through play, but certainly through their mirrored behaviors, and how this in turn held up a mirror to ourselves. What interactive traces do we similarly leave in our lives? In which instances are we the otter on the left, leading the way and making decisions to change course? In which instances do we follow just behind and to the side of others, and run to catch up? Why do we sometimes lead, why do we sometimes follow, and what makes us come together? Thoughts for Christmas, thoughts for the end of this year, and thoughts for the start of a new year, bestowed by the symbolism of these traces.
Links to Previous Posts in This Theme
On the 12th Day of Ichnology, My Island Gave to Me: 12 Snails Grazing
On the 11th Day of Ichnology, My Island Gave to Me: 11 Plovers Probing
On the 10th Day of Ichnology, My Island Gave to Me: 10 Beetles Boring
On the 9th Day of Ichnology, My Island Gave to Me: 9 Molluscans Hiding
On the 8th Day of Ichnology, My Island Gave to Me: 8 Crab Legs Walking
On the 7th Day of Ichnology, My Island Gave to Me: 7 Lizards Looping
On the 6th Day of Ichnology, My Island Gave to Me: 6 Hatchlings Crawling
On the 5th Day of Ichnology, My Island Gave to Me: 5 Bivalves Drilling
On the 4th Day of Ichnology, My Island Gave to Me: 4 'Gators Denning
 On the 3rd Day of Ichnology, My Island Gave to Me: 3 Ghost Shrimp Pooping