Life Traces of the Georgia Coast was published just a little more than a year ago, which as far as authoring goes, seems like yesterday. (Well, unless you're James Patterson.) Yet as of now, it's now my second-most recent book.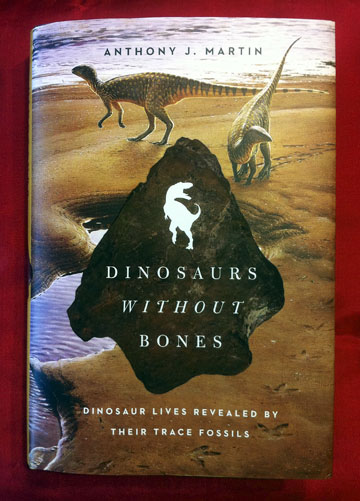 Hey, look: it's a book. How about that? (Photograph by the person whose name is on the cover.)
So I'm proud to announce today is the official launch date of my latest book, Dinosaurs Without Bones: Dinosaur Lives Revealed by Their Trace Fossils (Pegasus Books). What's it about? Yeah, I know, the main title implies the existence of invertebrate or incorporeal dinosaurs. But the subtitle makes clear that it's all about the fossil record of dinosaurs apart from just their bones: tracks, nests, burrows, toothmarks, gastroliths, feces, and much more. It's not only the first comprehensive book written about dinosaur trace fossils, it's my first overt attempt at popular-science writing in book form. How was it for me? Great fun, and I hope readers feel the same about it.
In a sure sign that authoring might be addictive, I started writing Dinosaurs Without Bones before the publication of Life Traces of the Georgia Coast. The latter book took nearly four years to complete, from proposal to holding that rather hefty volume in my hands. In contrast, I wrote and illustrated Dinosaurs Without Bones in just a little over a year, starting in the summer of 2012 and finishing in December 2013.
This marsupial-like gestation for Dinosaurs Without Bones can be attributed to several fortunate factors coming together, such as my having written two editions of a college textbook on dinosaurs (Introduction to the Study of Dinosaurs, 2001, 2006), writing about dinosaur trace fossils in a 2010-2011 blog (The Great Cretaceous Walk, now defunct), having the fresh experience of writing Life Traces of the Georgia Coast, and the freedom to write with a popular audience in mind. Write? Right.
Although today seems like a firm starting point for its availability to readers, it's actually been in an incremental "soft launch" during the past few weeks. For example, my publisher made it available for sale by Charis Books in Atlanta, Georgia when I gave a talk to the Atlanta Science Tavern at their annual Darwin Day Dinner on February 9. Other people have told me via Facebook, Twitter, and in person that their pre-ordered copies had already arrived last week. Then just last week, I had a bit of a coming-out party for the book at the annual Science Online 2014 meeting, where it was among the featured new science books, which were all given away in a raffle to lucky meeting participants.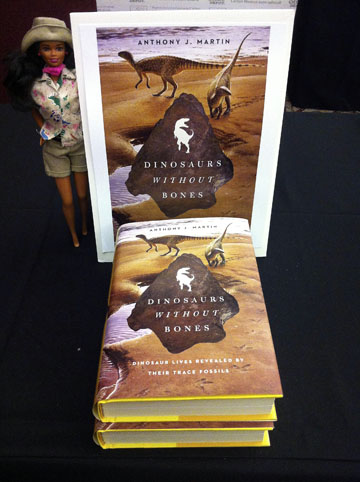 My colleague Paleontologist Barbie, happily posing next to Dinosaurs Without Bones during its first big public viewing at the Science Online 2014 meeting last week in Raleigh, North Carolina. (Photograph by the author again. Unfortunately, Paleontologist Barbie's arms, much like those of a tyrannosaur, are too short for her to do a selfie.)
I know what you're thinking: Where can I buy this book? (Your second most likely question is: Does it mention cats? The answer is yes, several times.) If you do get the book and read it, please let me know what you think of it, either via Twitter (@Ichnologist), its Facebook site, e-mail, or most retro of all, in person. Here's a list of suggested means for acquisition:
Your local independent bookstore. Tell the owner I sent you.
Order it directly from Pegasus Books here.
Order it from Powell's Books here.
Order it from Barnes and Noble here.
Order it from that online business that's trying really hard to make all of those other just-mentioned businesses go extinct. (And I ain't naming it, because that gives it more power.)
Thanks, hope you like it, and happy tracks, trails, nests, and burrows to you.
 Pertinent Bibliography
Martin, Anthony J. 2014. Dinosaurs Without Bones: Dinosaur Lives Revealed by Their Trace Fossils. Pegasus Books, New York: 460 p.