The seagull looked peaceful on that beach, lying on its left side with its eyes closed. Yet it was a permanent quietude, as only its head was there.
This disembodied head stuck out as a white spot with a red edge, perched on top of a pile of dull-brown, dead cordgrass. The torso so recently connected to this head was nowhere to be seen, and I could find no tracks belonging to the gull or any other animal nearby. It looked as if it had been placed there as an object of art, ready for erudite admirers – wine glasses in hand – to comment on its broader themes and nuanced metaphors. To a ichnologist, though, it also spoke of a sudden death, and one likely dealt by a aerial predator.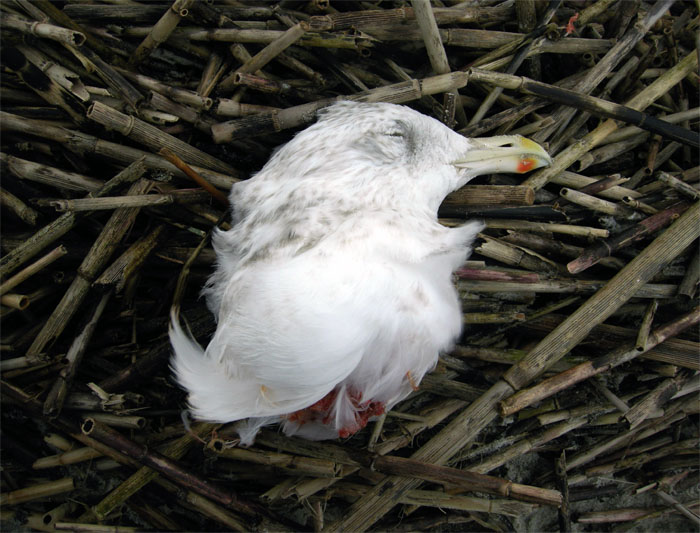 The place where I saw this gruesome sign was on Wassaw Island, Georgia. Wassaw is the only island on the Georgia coast that was never logged or otherwise developed by European or Americans, hence it retains a more primitive feel compared to most other Georgia islands. You can only get there by boat, and in this instance our boat captain and guide – John Crawford – had taken our field-trip group there to learn about its unique natural history. Because of its intact environments and general lack of human influence on the landscape, I was not surprised to see something new on Wassaw. However, I haven't seen anything like this since.
Within minutes of arriving on the island, this beheaded seagull presented a little mystery for us. As mentioned before, tracks and the rest of the body were not visible, nor were any droplets of blood around its head, either. Moreover, its dry feathers and the freshness of its fatal wound – a clean severing of its neck vertebrate – also meant it had not washed up on shore. Where did it die, and how did it get there?
After ruling out the land and sea, we looked above the beach, and realized that the attack must have been delivered up there, in the air. We then imagined what could have possessed the bulk, ferocity, and other means to chop through a seagull's neck while in flight. The list of suspects was a short one, and we quickly narrowed it down to one: a bald eagle.
Our hypothesis was not so far-fetched, as bald eagles don't just eat fish, but also kill and eat other birds, including gulls. This meant the seagull head we saw that morning was very likely a result of bird-on-bird predation. Extending this a bit further into the evolutionary pasts of these birds, it reflected a time when when their non-avian dinosaur ancestors killed and were killed by similar behaviors, but on the ground.
How did birds evolve flight from non-flighted theropod ancestors? No doubt one of many selection pressures exerted on non-avian dinosaurs was predation. Any means for increasing the likelihood of escape from predators also bestowed a greater probability for passing on genes coding for that "escaping trait" to the next generation of not-quite-flighted dinosaurs.
Of course, flight has evolved for many uses in birds. Nevertheless, making a quick getaway from mortal peril is still one of them. Yet flight has also been used as a means for enhancing predation in the birds that kill other birds, exerting new and different selection pressures on prey. This example of an evolutionary back-and-forth "arms race" between predators and prey is often nicknamed the Red Queen hypothesis, named after Lewis Carroll's character in Alice in Wonderland. Only now I will change her line (said to a fleeing Alice) about running in place:
Now, here, you see, it takes all the running you can do to keep in the same place.
to a more avian-appropriate one:
Now, here, you see, it takes all the flying you can do to keep in the same place.
Still, In this Georgia-coast example, a more appropriate literary allusion would have been to the Queen of Hearts from Alice in Wonderland, a decapitating character famous for uttering the line, "Off with their heads!" In this sense, the Red Queen and Queen of Hearts meet in the arms race between predators and prey.
Will this "Red Queen of Hearts" scenario happen again during eagle and seagull conflicts? Yes: that is, unless the seagulls' descendants adapt, which may be followed by the eagles' descendants adapting to these changes. And on it goes, this evolution of the now blending with the then, a reminder that these days of the dead affect those of the living, as well as those not yet alive.