Given the truth that the Atlantic horseshoe crab (Limulus polyphemus) is more awesome than any mythical animal on the Georgia coast (with the possible exception of Altmaha-ha, or "Altie"), it's no wonder that other animals try to steal its power by eating it, its eggs, or its offspring. For instance, horseshoe-crab (limulid) eggs and hatchlings provide so much sustenance for some species of shorebirds – such as red knots (Calidris canutus) and ruddy turnstones (Arenaria interpres) – that they have timed their migration routes to coincide with spawning season.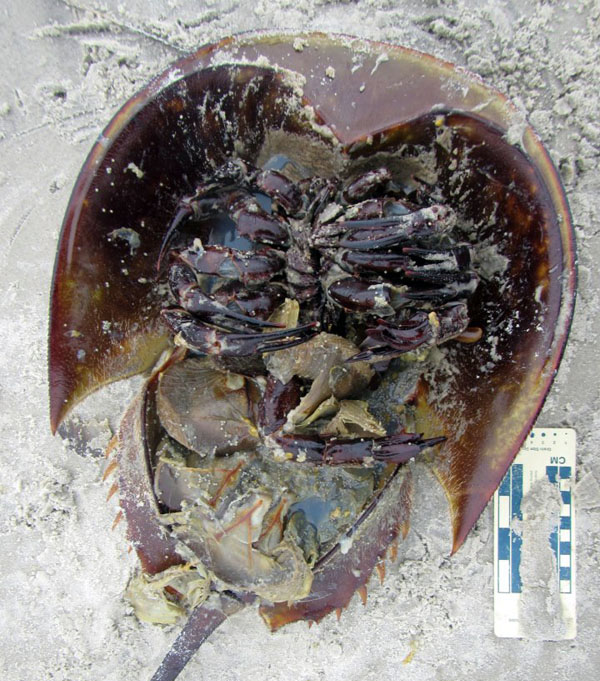 Something hunted down, flipped over, and ate this female horseshoe crab while it was still alive. Who did this, what clues did the killer leave, and how would we interpret a similar scenario from the fossil record? Gee, if only we knew some really cool science that involved the study of traces, such as, like, I don't know, ichnology. (Photograph by Gale Bishop, taken on St. Catherines Island, Georgia, on May 4, 2013.)
Do land-dwelling birds mammals eat adult horseshoe crabs? Yes, and I've seen lots of evidence for this on Georgia beaches, but from only three species: feral hogs (Sus crofa) and vultures (Coragyps atratus and Cathartes aura: black vultures and turkey vultures, respectively). In all of these interactions, no horseshoe-crab tracks were next to their bodies, implying they were already dead when consumed; their bodies were probably moved by tides and waves after death, and later deposited on the beach. This supposition is backed up by vulture tracks. I've often seen their landing patterns near the horseshoe-crab bodies, which means they probably sniffed the stench of death while flying overhead, and came down to have an al fresco lunch on the beach.
Nonetheless, what I just described is ichnological evidence of scavenging, not predation. So I was shocked last month when Gale Bishop, while he was monitoring for sea-turtle nests on St. Catherines Island (Georgia), witnessed and thoroughly documented an incident in which a raccoon (Procyon lotor) successfully preyed on a live horseshoe crab. Yes, that's right: that cute little bandit of the maritime forest, going down to a beach, and totally buying into some Paleozoic diet plan, a passing fad that requires eating animals with lineages extending into the Paleozoic Era.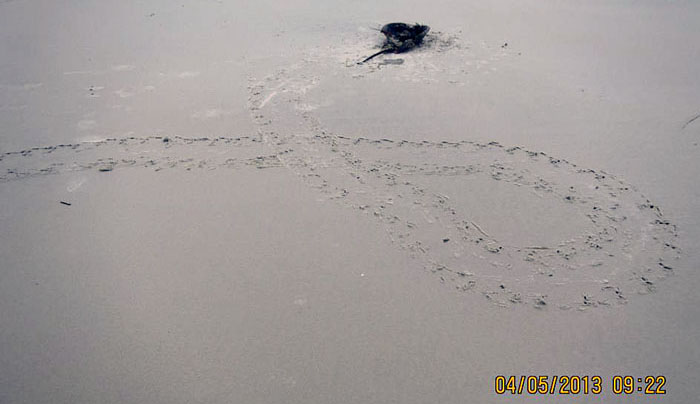 So what's the big deal here? Horseshoe crab comes up on beach, gets lost, spirals around while looking for the ocean, and dies in vain, a victim of its own ocean-finding ineptitude: the end. Nope, wrong ending. For one thing, those horseshoe crab tracks are really fresh, meaning their maker was still very much alive, then next thing it knows, its on its back. Seeing that horseshoe crabs are not well equipped to do back-flips or break dance, I wonder how that happened? (Photograph by Gale Bishop, taken on St. Catherines Island, Georgia, and you can see the date and time for yourself.)
Here is part of the field description Gale recorded, which he graciously shared with me (and now you):
"Female Horseshoe Crab at 31.63324; 81.13244 [latitude-longitude] observed Raccoon feeding on upside-down HSC [horseshoe crab] on south margin of McQueen Inlet NO pig tracks. Relatively fresh HSC track. Did this raccoon flip this HSC?"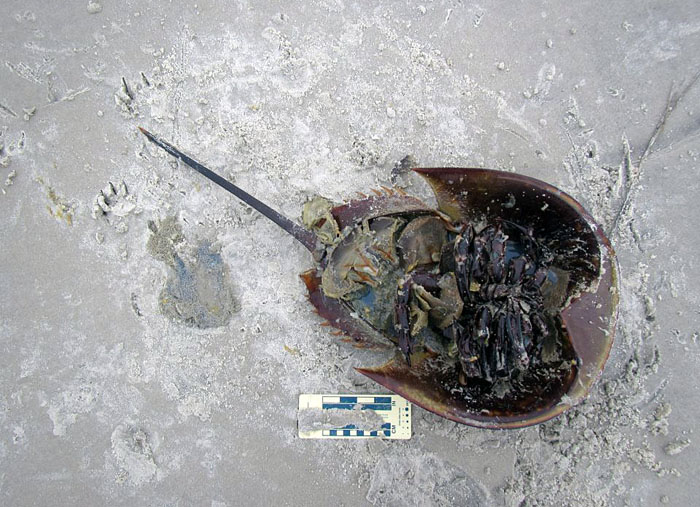 Well, well. Looks like we had a little commotion here. Lots of marks made from this horseshoe crab getting pushed against the beach sand, and by something other than itself. And that "something else" left two calling cards: a urination mark (left, middle) and just above that, two tracks. I can tell you the tracks are from a raccoon, and Gale swears the urination mark is not his. (Photograph by Gale Bishop, taken on St. Catherines Island, Georgia, and on May 4, 2013.)
I first saw these photos posted on a Facebook page maintained by Gale Bishop, the St. Catherines Island Sea Turtle Program (you can join it here). This was one of this comments Gale wrote to go with a photo:
GB: "This HSC must have been flipped by the Raccoon; that was NOT observed but the fresh crawlway indicates the HSC was crawling across the beach and then was flipped – only tracks are Rocky's!"
[Editor's note: "Rocky" is the nickname Gale gives to all raccoons, usually applied affectionately just before he prevents them from raiding a sea-turtle nest. And by prevent, I mean permanently.]
My reply to this:
AM: "VERY fresh tracks by the HSC, meaning this was predation by the raccoon, not scavenging."
In our subsequent discussions on Facebook, Gale agreed with this assessment, said this was the first time he had ever seen a raccoon prey on a horseshoe crab, and I told him that it was the same for me. This was a big deal for us. He's done more "sand time" on St. Catherines Island beaches than anyone I know (every summer for more than 20 years), and in all my wanderings of the Georgia barrier island beaches, I've never come across traces showing any such behavior.
(Yes, that's right, I know you're all in shock now, and it's not that this was our first observance of this phenomenon. Instead, it is that we used Facebook for exchanging scientific information, hypotheses, and testing of those hypotheses. In other words it is not just used for political rants, pictures of cats and food, or political rants about photos of cat food. Which are very likely posted by cats.)
Now, here's where ichnology is a pretty damned cool science. Gale was on the scene and actually saw the raccoon eating the horseshoe crab. He said it then ran away once it spotted him. ("Uh oh, there's that upright biped with his boom stick who's been taking out all of my cousins. Later, dudes!") And even though I trust him completely as a keen observer, excellent scientist, and a very good ichnologist, I didn't have to take his word for it. His photos of the traces on that Georgia beach laid out all of the evidence for what he saw, and even what happened before he got there and so rudely interrupted "Rocky" from noshing on horseshoe-crab eggs and innards.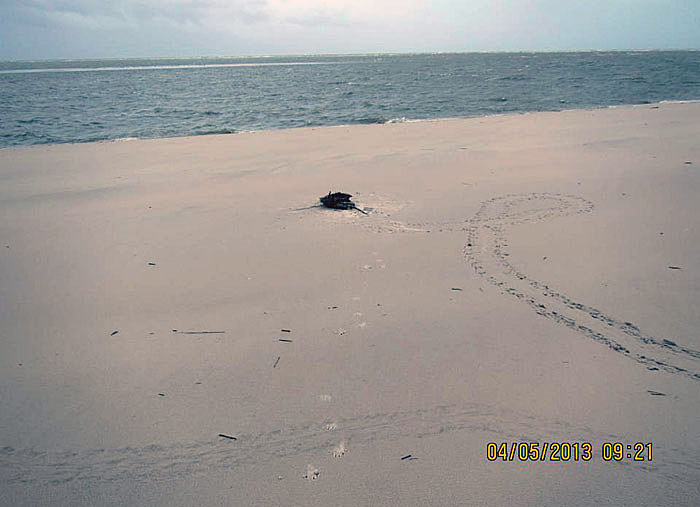 Another view of the "death spiral" by the horseshoe crab, which we now know was actually a "life spiral" until a raccoon showed up and updated that status. Where's the evidence of the raccoon? Look in the middle of the photos for whitish marks, grouped in fours, separated by gaps, and each forming a backwards "C" pattern. Those are raccoon tracks, and it was galloping away from the scene of the crime (toward the viewer).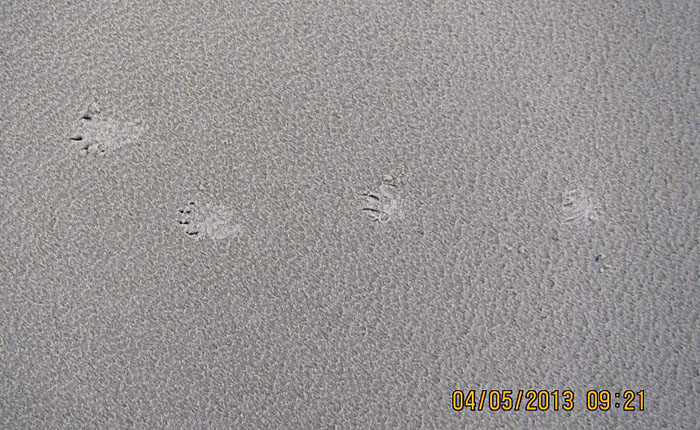 So you don't believe me, and need a close-up of that raccoon gallop pattern? Here you go. Both rear feet are left, both front feet are right, and the direction of movement was to the left; when both rear feet exceed the front, that's a gallop, folks. Notice the straddle (width of the trackway) is a lot narrower than a typical raccoon trackway, which is what happens when it picks up speed. When it's waddling more like a little bear, its trackway is a lot wider than this. Conclusion: this raccoon was running for its life.
Although this is the only time Gale has documented a raccoon preying on a horseshoe crab – and it is the first time I've ever heard of it – we of course now wonder whether this was an exception, or if it is more common that we previously supposed. The horseshoe crab was a gravid female, and was likely on the beach to lay its eggs. Did the raccoon somehow know this, and sought out this limulid so that – like many shorebirds – it could feast on the eggs, too, along with some of the horseshoe crab itself? Or was it opportunistic, in that it was out looking for sea-turtle eggs, saw the horseshoe crab, and thought it'd try something a little different? In other words, had it learned this from experience, or was it a one-time experiment?
All good questions, but when our data set is actually a datum set (n = 1), there's not much more we can say about this now. But given this new knowledge, set of search patterns, and altered expectations, we're more likely to see it again. Oh, and now that you know about this, so can you, gentle reader. Let us know if you see any similar story told on the sands of a Georgia beach.
You want one more reason why this was a very cool discovery? It shows how evolutionary lineages and habitats can collide. Horseshoe crabs are marine arthropods descended from a 450-million-year-old lineage, and likely have been coming up on beaches to spawn all through that time. In contrast, raccoons are relative newcomers, coming from a lineage of land-dwelling mammals (Procyonidae) that, at best, only goes back to Oligocene Epoch, about 25 million years ago. When did a horseshoe crab first go onto land and encounter a land-dwelling raccoon ancestor? Trace fossils might tell us someday, especially now that we know what to look for.
So once again, these life traces provided us with a little more novelty, adding another piece to the natural history of the Georgia coast. Moreover, a raccoon preying on a horseshoe crab was another reminder that even experienced people – like Gale, me, and others who have spent much time on the Georgia barrier islands – still have a lot more to learn. Be humble, keep eyes open, and let the traces teach you something new.
(Acknowledgement: Special thanks to Dr. Gale Bishop for again spotting something ichnologically weird on St. Catherines Island, documenting it, and sharing what he has seen during his many forays there.)