(This is the third of a three-part series honoring the memory of paleontologist-ichnologist-teacher-artist Dolf Seilacher, who died on April 26, 2014. Part I of the series is here and Part II is here.)
After Dolf's only trip to Georgia in 1997, I saw and talked with him a few more times, conversations that sometimes involved rocks and trace fossils in the field, but sometimes not. These times and places were in 2003 (Switzerland), 2004 (Argentina), 2006 (the far-off land of Philadelphia), and 2008 (Krakow, Poland).
Plenty of other ichnologists from around the world attended these meetings, too. Many of them I now consider as long-time friends, in which we get back for regular reunions to talk and argue about trace fossils, discussions that are normally accompanied by ritualistic consumption of significant volumes of libations. Almost always in such conversations, though, someone mentions the name "Dolf." This then leads to animated discussions of his articles, remembrances of personal encounters with him (which usually involve some sort of strongly worded disagreement about a scientific idea), or telling stories about field trips, where Dolf noticed something extraordinary that everyone else had missed. In other words, even when Dolf wasn't there, he was still present.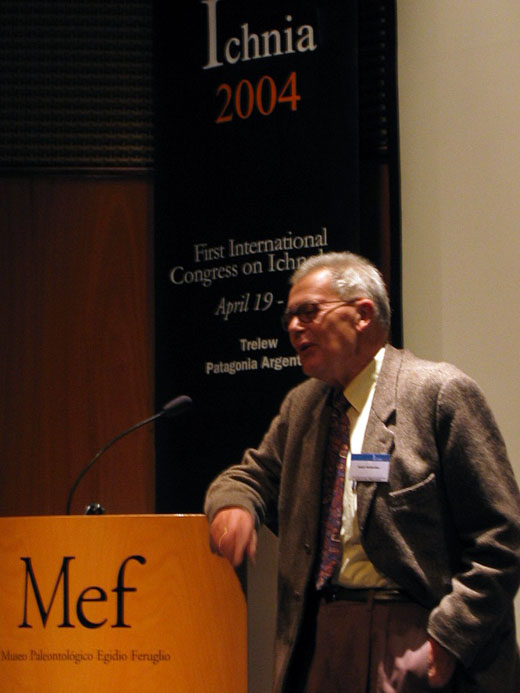 If invited to speak at a gathering of ichnologists, Dolf Seilacher was never shy about saying "yes." Here he addresses participants of the 1st International Ichnological Congress (Ichnia), held in Trelew, Argentina in 2004. (Photograph by Anthony Martin.)
As opposed to his trip to Georgia in 1997, the 2003 meeting in Switzerland was more-or-less in Dolf's backyard, a short trip from his home in Tübingen, Germany. This was the International Ichnofabric Workshop, a biannual meeting of ichnologists that's been taking place since the 1990s in various trace-fossil-rich places throughout the world. I love these meetings because of their balance between time spent blabbing in conference rooms and time spent in the field, looking at trace fossils: typically three days inside, three days outside. Now that's what I call "fair and balanced."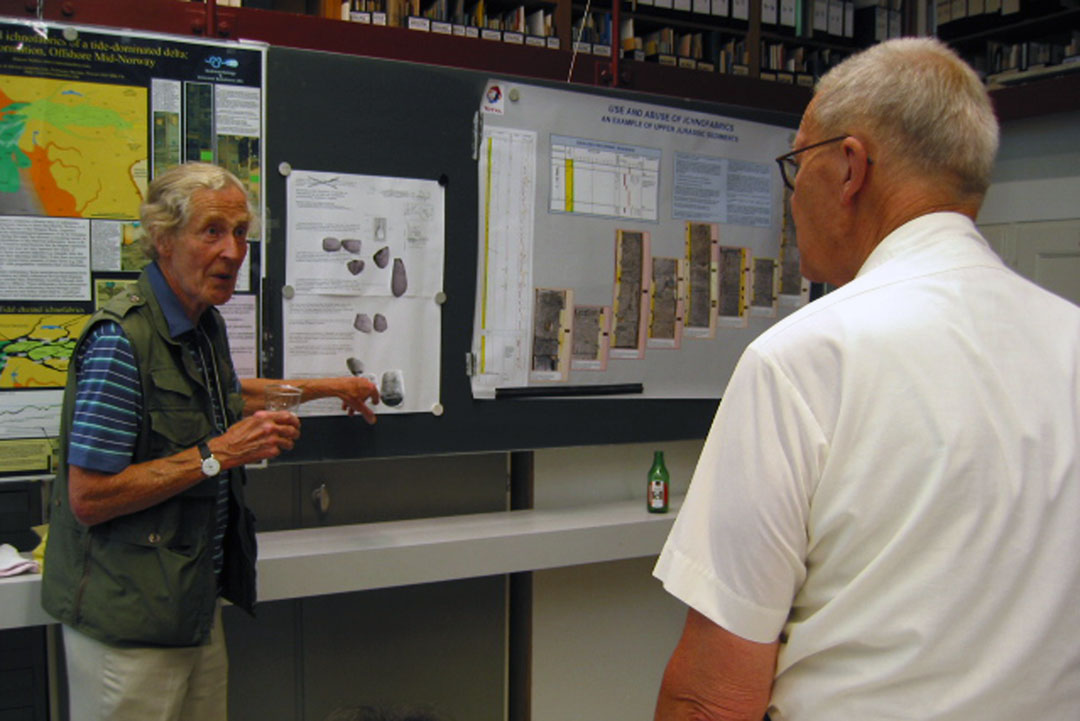 How would you like to have your "Dolfing"? Inside or…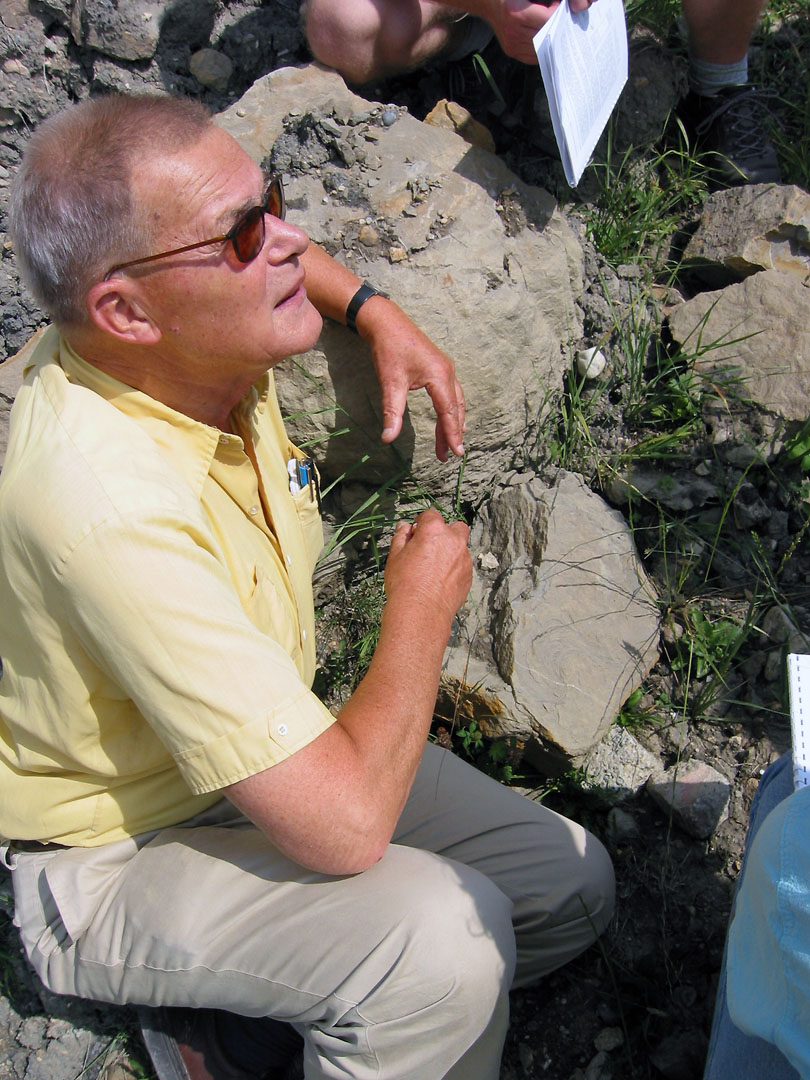 …outside? (Both photographs taken by Anthony Martin in July 2003, Switzerland.)
Many of the trace fossils we encountered on the field-trip portion of the workshop were originally from deep-marine environments, made 30-50 million years ago by invertebrate animals that lived in on ocean-floor sediments hundreds or perhaps thousands of meters below the surface. Later, when the Alps were uplifted by colliding plates, this oceanic-continental mashing transported the trace fossils, resulting in seemingly anomalous signs of life from a deep seafloor, but in alpine settings. Dolf was one of the world's experts on deep-sea traces, and among the few ichnologists to have taken a submersible ride (DSV Alvin) to more than 3,500 m (11,500 ft) down, highlighted in the IMAX film Volcanoes of the Deep Sea (2003). So it was no surprise when our first encounters with these trace fossils in the field prompted him to share his considerable knowledge about them.
Although Volcanoes of the Deep Sea is a fine documentary film in its entirety, for now just watch the first three minutes here to see Dolf in the field, looking for deep-sea trace fossils and talking about his mistress, who he met on his honeymoon. (Spoiler alert: His "mistress" is a trace fossil, and a complicated one, named Paleodictyon.)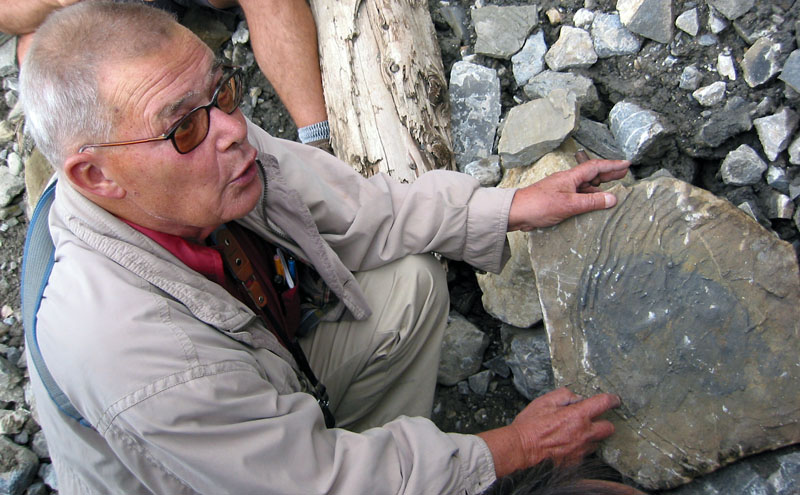 Dolf was clearly excited about sharing what he knew about the deep-sea trace fossils during our Ichnofabric Workshop in Switzerland. And he knew a lot. (Photograph taken by Anthony Martin in July 2003, Switzerland.)
The 2004 meeting in Argentina was a big deal for ichnologists, as this marked the first International Ichnological Congress, more briefly called Ichnia. More than a hundred ichnologists of varied interests, backgrounds, and nationalities gathered in Patagonia, Argentina, first for a glorious four-day field trip based out of Comodora Rivadavia, then for the congress itself in Trelew. Dolf joined us for the latter, and people who delivered talks in the sessions soon realized they were not going to leave the stage until Dolf asked them a question or made a comment about their work. At the time, he was 79 years old, but clearly was not ready to slow down teaching all of us.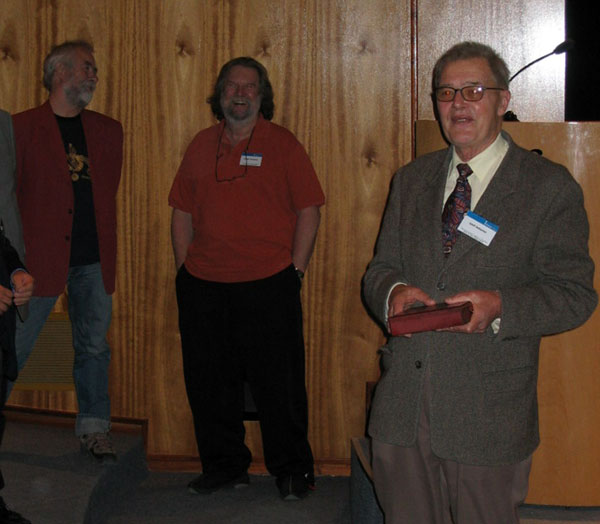 A rare circumstance: three of the most significant ichnologists in the world leaving fresh and contemporaneous footprints in the same habitat. From left to right is Richard Bromley (Denmark), George Pemberton (Canada), and Dolf, who was accepting an award from the organizers of this Ichnia. Jorge Genise's hands (left) for scale. (Photograph by Anthony Martin, taken in Trelew, Argentina in April 2004).
The 2006 meeting in Philadelphia was significant, as this was for a symposium in honor of Dolf's long and successful career. Organized as a session within the Geological Society of America meeting, it attracted so many ichnologists that the symposium lasted the entire day. In our talk, Andy Rindsberg (mentioned in my last post) and I decided we would cover one of Dolf's favorite topics, the traces made by animals when they stop, nicknamed "resting traces." In planning our talk, we knew Dolf would appreciate some good-natured poking fun at his expense. So we decided to lampoon both his authority in our field and his penchant for smoking good cigars through the following two slides (shown here side-by-side).

Two slides shown in succession at the Seilacher symposium, held in the 2006 Geological Society of America meeting in Philadelphia, Pennsylvania. Translation on the right is "Sometimes a resting trace is just a resting trace," and I think you can figure out the one on the left now. I don't know the photo credit for Dr. Freud, but the one on the right was taken by Andy Rindsberg at the Seilachers' home in Tubingen, Germany in 2006.

It was a success. Dolf was sitting in the front row while I gave my talk, and I'll never forget his delighted smile when he saw the image of Sigmund Freud dissolve into his, with an almost perfectly mirrored pose.
The last time I saw Dolf was in Krakow, Poland, and at the second Ichnia meeting in 2008. His presence was doubly appreciated by all of us, as Jagiellonian University was also hosting – at the same time – Dolf's pride and joy, the Fossil Art exhibit.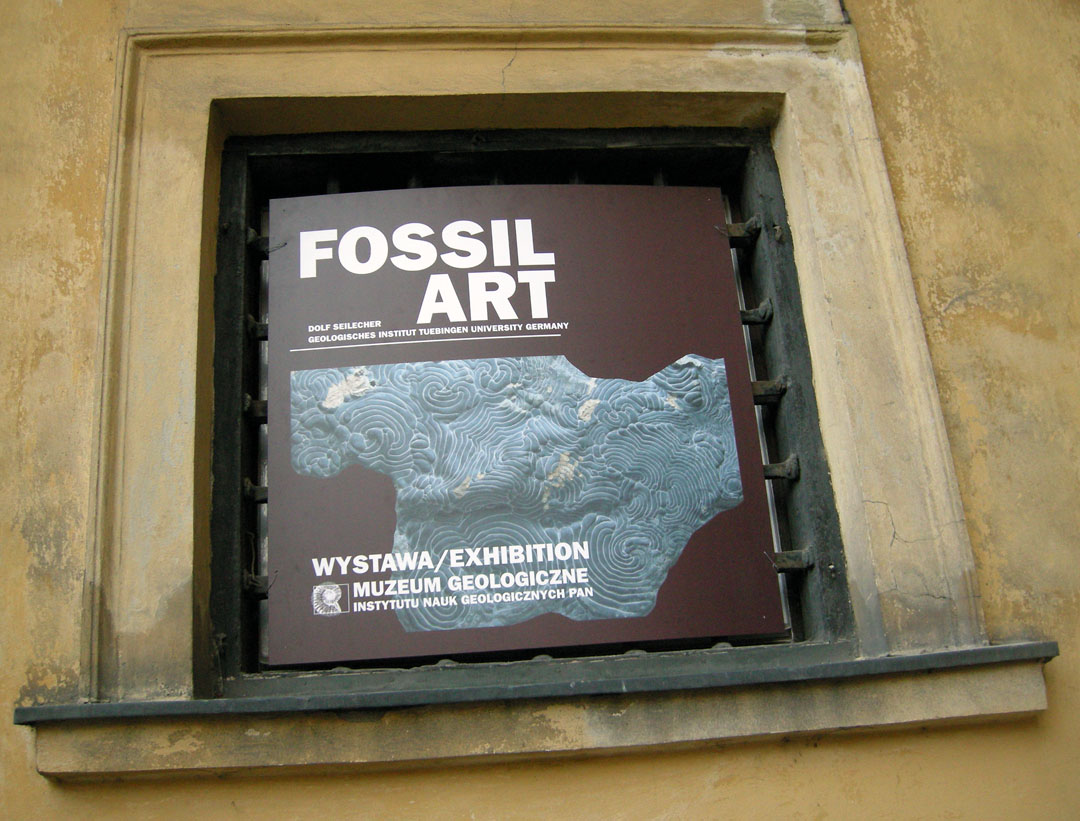 It's a sign! Advertising the exhibit Fossil Art, that is. In this instance, the venue was at Jagiellonian University in Krakow, Poland, and in 2008. (Photograph by Anthony Martin.)
However, it was at this meeting where Dolf showed us a side we had almost never seen, but one that was completely appropriate for where we were. Alfred Uchman, the meeting organizer (and one of the world's experts on deep-sea trace fossils), had asked Dolf to speak at the opening of the meeting on an ichnologically themed topic of his choosing. I don't remember the main topic of his presentation, and the reason why for my faulty memory is because of what happened first.
Dolf began his talk with a deeply heartfelt and remorseful apology. In an awareness of both history and place, he told us how the grand room in which we were seated was where, in 1939, Jagiellonian University officials had handed over control of this esteemed institution – one of the oldest universities in the world and the intellectual home of Copernicus – to invading forces of Nazi Germany. Dolf, as a German citizen, a World-War II veteran who fought on the side of the Nazis, and who shared a first name with a certain genocidal dictator from Germany, expressed his shame and regret about what had happened in that place and then. I looked around the room and recall sensing the surprise we all felt at his  expression of regret, but also its poignancy and sense of redemption. He then went on and delivered his scientific talk, but it had become one overshadowed by our realization of how horrific histories and inquisitive inquiries are shared facets of our humanity.
Then there was Fossil Art. I remember seeing the first iteration of this traveling display in Germany in 1994, then elsewhere. This exhibit consists of life-sized reproductions (epoxy resin casts) of rock slabs, most of which held gorgeously intricate and intriguing trace fossils, but some with body fossils and physical sedimentary structures, such as ripples and mudcracks. At this meeting, we were privileged enough to get a guided tour of the exhibit by Dolf himself, who gave an introduction to its purpose as a way of engaging our minds and senses with beautiful patterns in rocks, many of which were made by animals from millions of years ago.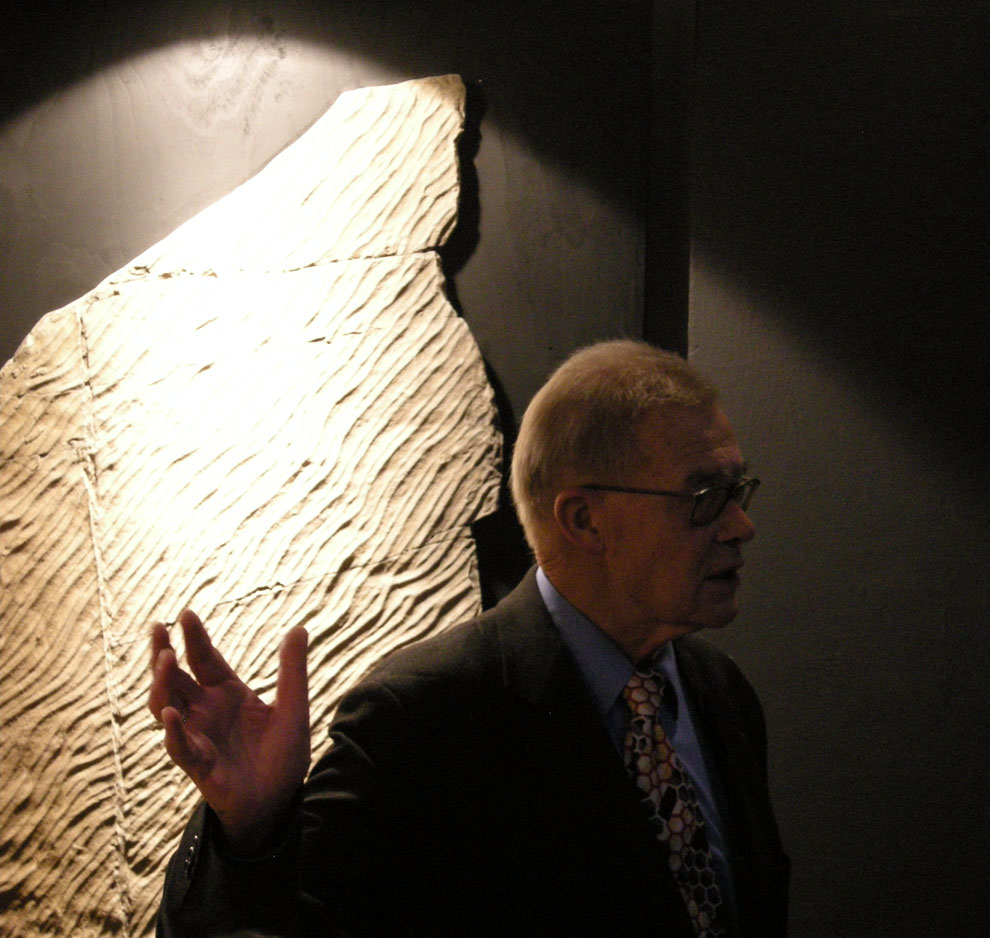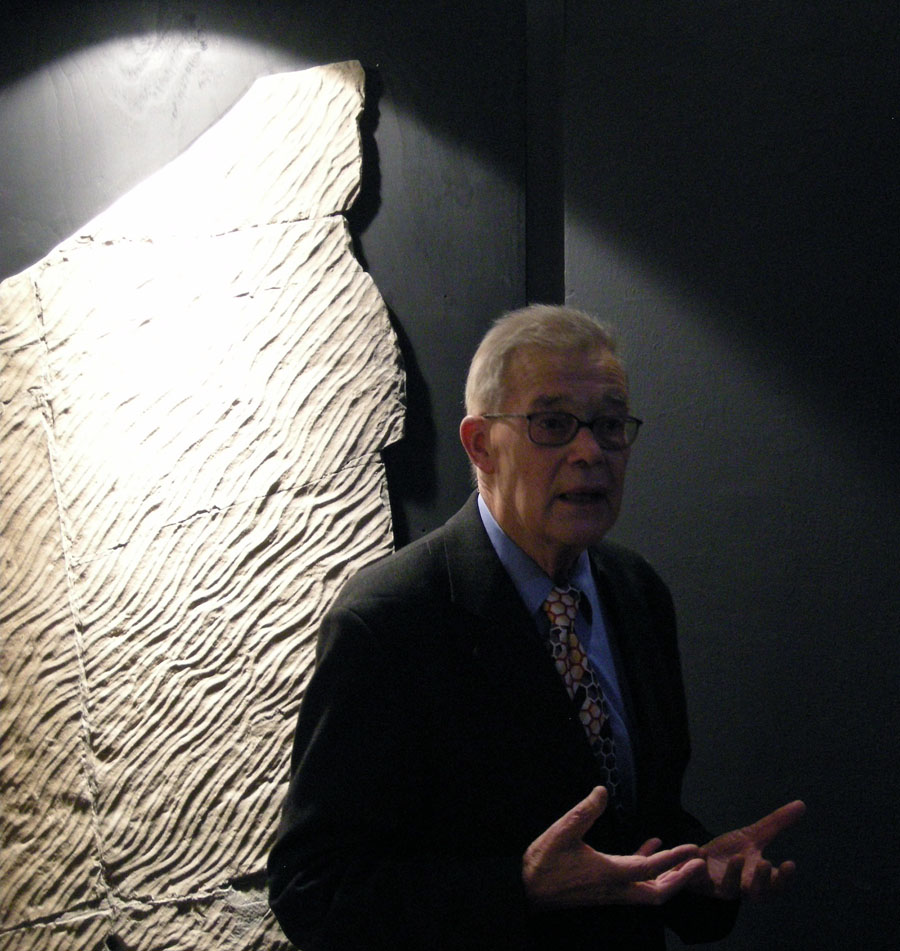 Dolf Seialcher introducing Fossil Art to a gathering of ichnologists at Ichnia 2008 in Krakow, Poland. (Photographs by Anthony Martin.)
Many of these reproductions received fanciful titles, such as The Trilobite Circus of Penha Garcia and Witch Broomings, and are mounted like works of art, with carefully arranged lighting accentuating their features. These "slabs" also have Dolf's written explanations in placards next to them, describing and interpreting their geological significance, but also marveling at their beauty. Is it art, or is it science? Yes. Anyway, I'll just let these images speak for this masterful blending of natural, aesthetic beauty and scientific information.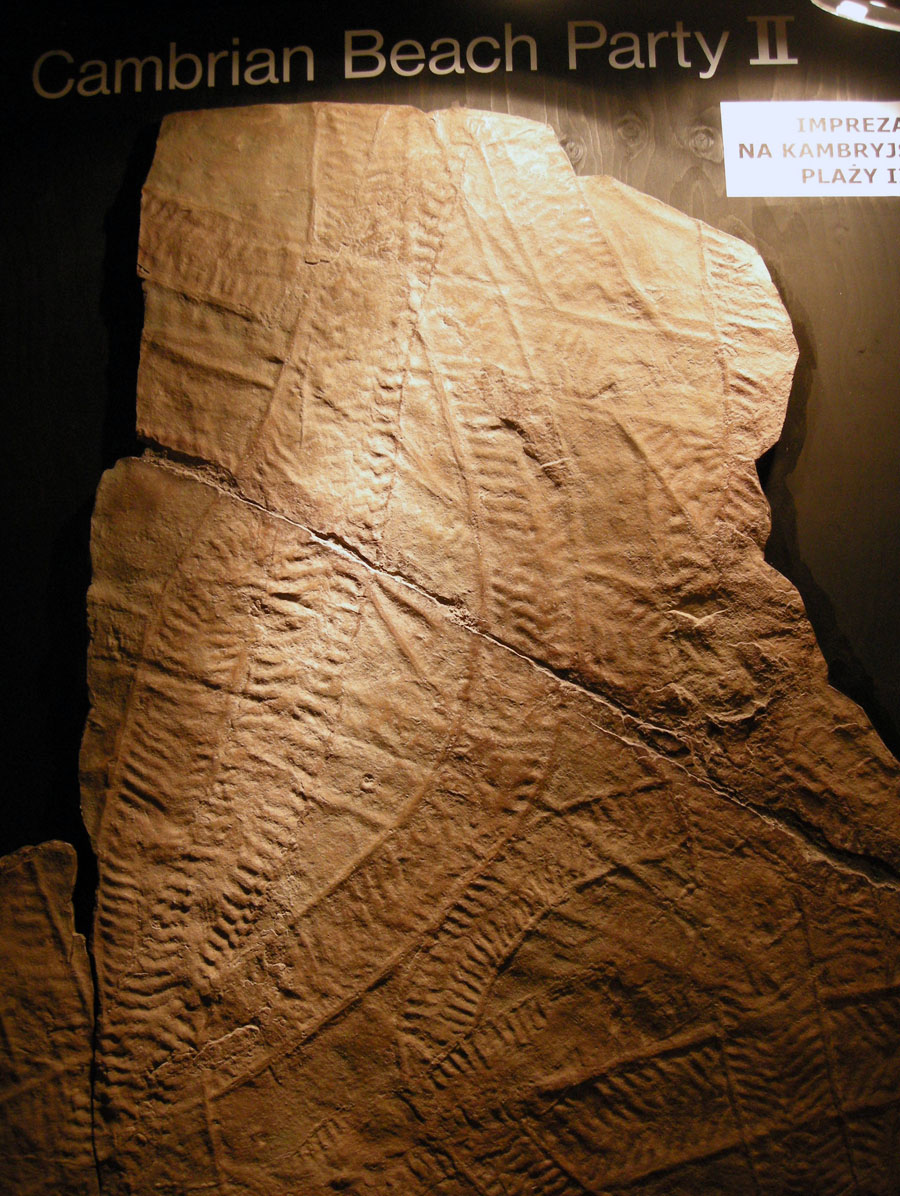 Cambrian Beach Party II, representing trace fossils made by large slug-like animals on a beach about 500 million years ago. (Photograph by Anthony Martin, taken in Krakow, Poland in 2008.)
The Trilobite Circus of Penha Garcia, a collection of exquisitely preserved trilobite burrows from Portugal, preserved as natural casts. (Photograph by Anthony Martin, taken in Krakow, Poland in 2008.)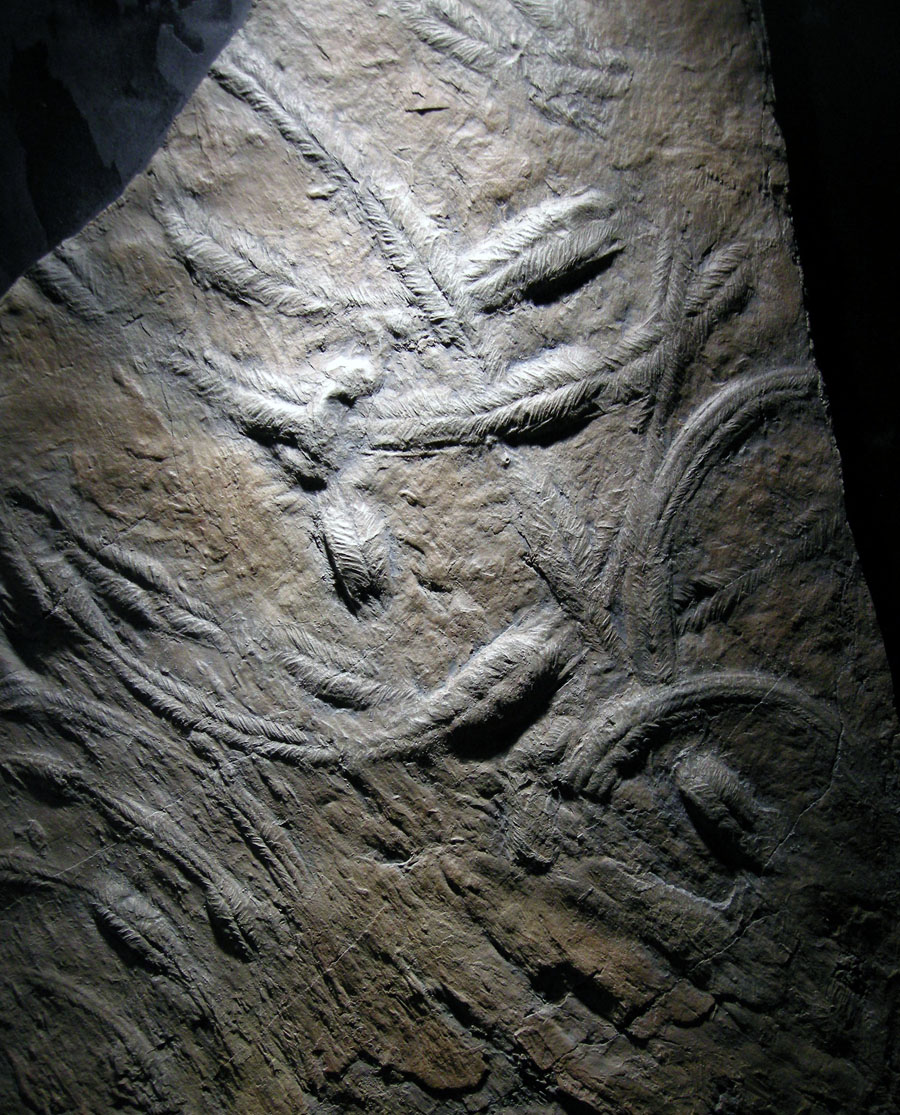 Trilobite Pirouettes, more natural casts of trilobite burrows, but showing looping and stopping ("resting") behaviors. (Photograph by Anthony Martin, taken in Krakow, Poland in 2008.)
More ichnology meetings took place since then: the third Ichnia meeting in Newfoundland, Canada (2012), and the most recent International Ichnofabric Workshop in Çannakale, Turkey (2013). Dolf did not physically attend either meeting, which did not surprise anyone, as he was in his late 80s, and we were starting to hear stories about his failing health. Nevertheless, a day never passed without his name coming up in conversation. So although most of us had not seen him since 2008, his ideas, personality, and methods seemed permanently attached to us, akin to some of the fossils he had studied.
Now that Dolf is gone and we are left with his considerable life traces, what would be  the best way for all of us to remember him? I suggest we do it through the flattery of imitation.
We are living in a time when science is very popular, even in the U.S., evident from TV shows like Cosmos and Your Inner Fish, as well as many clear and wonderfully written  science books. A few people have even declared that we've entered a "golden age" of science communication. Yet basic scientific research is also under assault from anti-science political forces, ones that insist on alternative realities where opinions are given equal (or superior) weight when compared to factual evidence. Moreover, mainstream academia is currently undergoing an administratively led collapse from within, as U.S. universities move more toward a corporate model that places higher profits over discoveries, knowledge, and teaching.
Still, through Dolf Seilacher's life and accomplishments as a scientist, teacher, and artist, he showed a way to side-step the current chaos. Through his practices, he demonstrated how nearly all of us can do science and make discoveries every day by simply using our senses, pencils, paper, and intellects. Just to be clear, this is not a call to Neo-Luddism, in which we abandon our precious iPads and laser scanners while chanting incantations honoring our pre-technological ancestors. Instead, it is one that asks us to rediscover these basic skills – observing, drawing, and imagination – for conducting science, discovering, learning, and passing on new-found insights to future generations. In short: be more like Dolf.
Danke und Auf Wiedersehen, Dolf, for the gifts you gave us, traces that will continue long after you have become part of the earth and life you so loved studying.
References
Seilacher, A. 2007. Trace Fossil Analysis. Springer, Berlin: 226 p.
Seilacher, A. 1997, 2008. Fossil Art. (Two versions of this book were published, one through the Royal Tyrell Museum of Palaeontology in 1997, which was 64 page long; the other was through CBM Publishing in Laasby, Denmark, and was 101 pages long. The latter book can be purchased here.)