Plan to be surprised. That's my adopted attitude whenever I'm on a developed barrier island of the southeastern U.S. coast and looking for animal traces. When primed by such open-mindedness, I've found that looking beyond the expected – or listening for the whispers below the shouts – can sometimes yield traces of the unexpected.
A beach-to-dune-to-fencing-to-vacation-home transect on the south end of Tybee Island, Georgia. Not much for an ichnologist or any other naturalists to learn here, right? Try, try again. (Photograph by Anthony Martin.)
Last month, just a couple of days after a successful book-related event in Savannah, Georgia (described here), my proximity to the Georgia coast meant I had to get to the nearest barrier island, which was Tybee Island. However, a challenge presented by Tybee – and the one that causes most coastal naturalists to run away from it screaming – is its degree of development.
Actual footage of a cephalopod ichnologist reacting to the news that a field trip would go to a developed barrier island. P.S. Octopus tentacle prints would make for the coolest trace fossils ever. (Source here.)
Accordingly, Tybee Island also has large numbers of people, especially on a pretty weekend during the summer. Granted, the development is not so awful that Tybee no longer has beaches and marshes. But it does have enough paved streets, houses, vacation rentals, hotels, restaurants, shops, and other urban amenities that you can easily forget you're on a barrier island.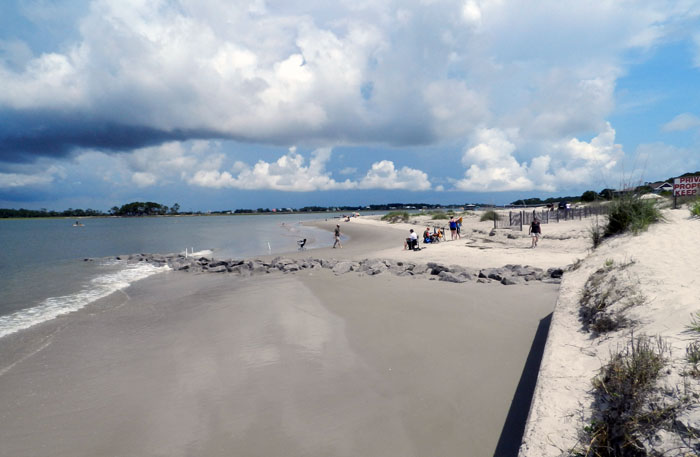 An oddly shaped beach on the south end of Tybee Island, molded by a combination of a seawall, big blocks of igneous rock, fences, boat wakes, and oh yeah, waves, tides, and sand. Better than a shopping mall, for sure, but it takes some getting used to for naturalists who do their field work in less peopled places. (Photograph by Anthony Martin.)
Tybee's beaches are also "armored" with rip-rap and seawalls, which were placed there in a vain attempt to keep sand from moving. (On a barrier island, this is like telling blood it can only circulate to one part of a body.) Moreover, its modest coastal dunes rely on fencing as a half-buttocked substitute for healthy, well-rooted vegetation holding the sand in place. The sand in those dunes also looks displaced to anyone acquainted with Georgia-coast dunes on undeveloped islands. This is because that sand really is from somewhere else, having been trucked in from somewhere else and dumped there for beach "renourishment." There's also not much of a maritime forest there, or freshwater ponds. So yeah, I guess those cranky naturalists have a point.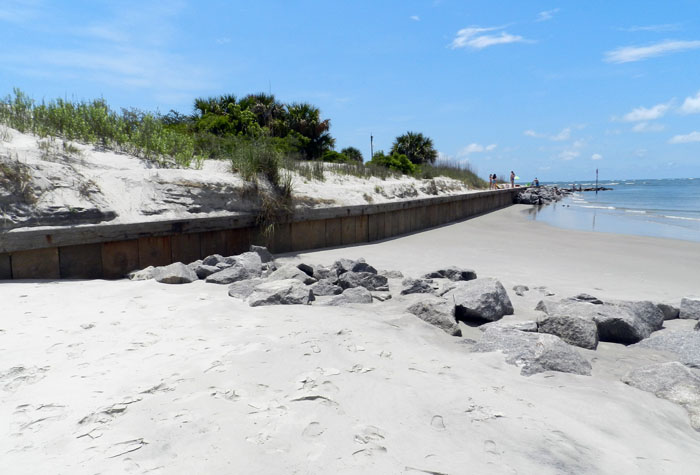 Another view of the south end, showing the sharp vertical drop between the beach and dunes because of the seawall between them. The rocks (foreground) probably didn't help much, either. (Photograph by Anthony Martin.)
Ergo, a pessimistic expectation I had before arriving on Tybee is that it would have a barrage of human and dog tracks, a tedium only punctuated by human-generated trash, all of which would assault and otherwise insult my ichnological senses. Fair or not, this prejudice kept me away from Tybee when I was doing field research for Life Traces of the Georgia Coast, and I stayed off St. Simons Island for a while, too, before succumbing in 2009. (I'm glad my wife Ruth convinced me to visit St. Simons – and I've been back several times since – but the interesting ichnology of St. Simons is the topic of another post.)
But then again, there was the matter of honoring the all-American right to convenience. Tybee Island is only about a 20-minute drive from Savannah, and you could drive there thanks to a causeway that connects the island to the mainland. Plus I had been to Tybee several times with students on field trips, and knew that lots could be learned there if I put a gag on my cynicism. I even had a research question, wondering how many ghost crab burrows would be in the dunes there compared to other Georgia barrier islands.
So thanks to the Hartzell Power Couple™, who were hosting Ruth and me in Savannah for the aforementioned book event, we were in their car on a Saturday morning and soon found ourselves walking on the south end of the Tybee, checking out its dunes and beaches, and (of course) their traces.
Fortunately, my question about the ghost crab burrows was answered within a few minutes of arriving at the south-end beach. Sure enough, we spotted a few of these distinctive holes, sand piles outside of the holes, and ghost-crab tracks scribbled on the dunes. Their traces weren't nearly as common as on other undeveloped islands, but still, there they were.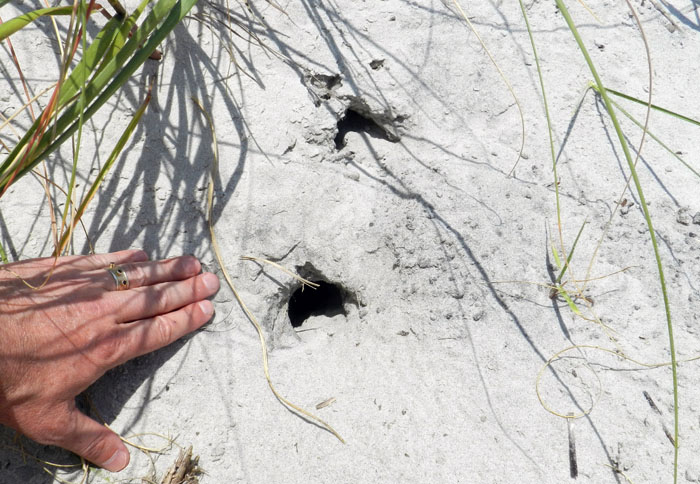 Ghost crab burrows really do exist on developed barrier islands: whoa! Although it's still a good question about their relative abundance on a developed Georgia barrier island versus one that's barely altered, like nearby Wassaw Island. Sounds like some science needs to be done on that. (Photograph by Anthony Martin.)
But here's the coolest thing we saw, ichnologically speaking. The dunes also had little holes that were about the width of a pencil, with crescent-shaped openings and fresh sand aprons just outside these holes.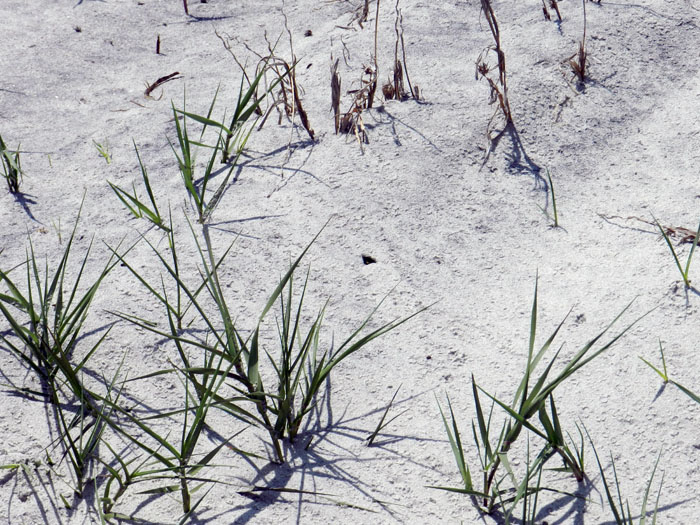 What have we here? A little hole in the dunes with some freshly dumped sand outside of it. The game's afoot! (Photograph by Anthony Martin.)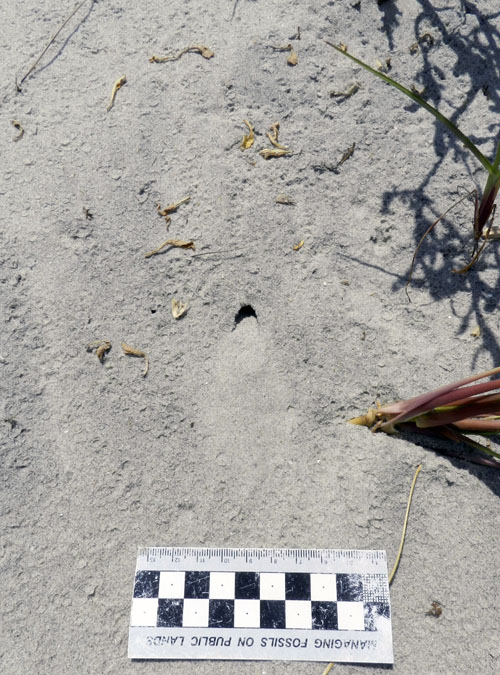 A close-up look of another hole very similar to the previous one. I wonder what could have made this? Oh well, I guess we'll never know. Unless you read more, that is. (Photograph by Anthony Martin.)
I was pretty sure what made these, but as a scientist, I needed more evidence. So after pointing out the holes to my companions (Ruth and the Hartzell Power Couple™), we stood in one place and waited a few minutes. That's when one of the tracemakers arrived.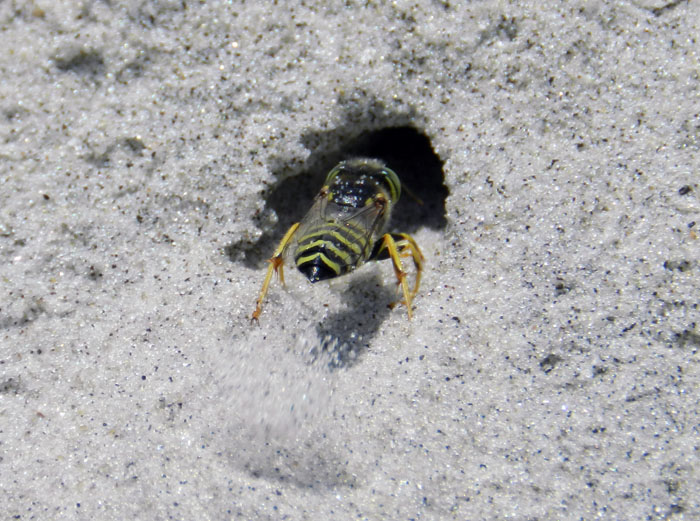 Behold, the mystery tracemaker revealed! Check out that incredible digging! She's got legs, and knows how to use them! (Photograph by Anthony Martin.)
Hypothesis confirmed! I predicted these were wasp burrows, and after watching several flying around the dunes, landing, walking up to and entering the holes, digging energetically, and emerging (repeat cycle), this was all of the evidence I needed. The wasps were some species of Stictia (sometimes nicknamed "horse-guard wasps" because they prey on horse flies). Moreover, these were female wasps making brooding chambers, little nurseries where they were going to lovingly lay eggs on paralyzed prey as a form of parasitoid behavior. (P.S. I absolutely adore parasitoid wasps, and you should, too.)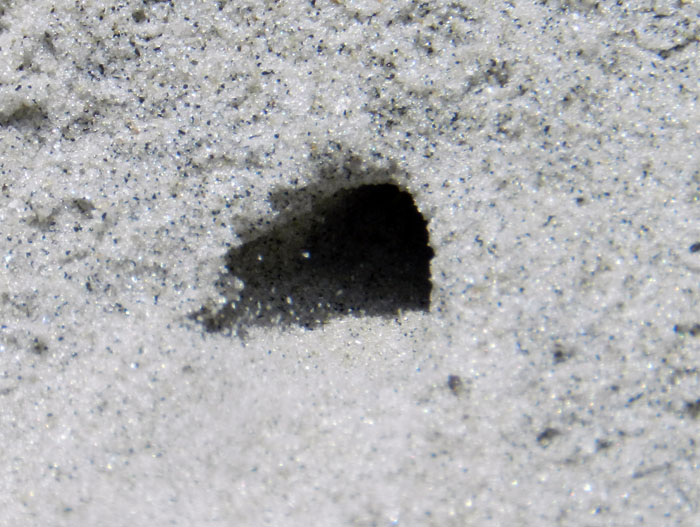 Up-close view of the same wasp burrow shown above. Oh, she's in there, all right. See those sand grains getting kicked out of the burrow? (Photograph by Anthony Martin, taken on Tybee Island.)
In our too-brief time there on Tybee, we also saw feral cat tracks in the dunes. This is a common trace on developed islands, especially where people live year-round. Sometimes these are from pets that residents let roam free, but more likely these are made by the descendants of escaped cats that then breed in the wild.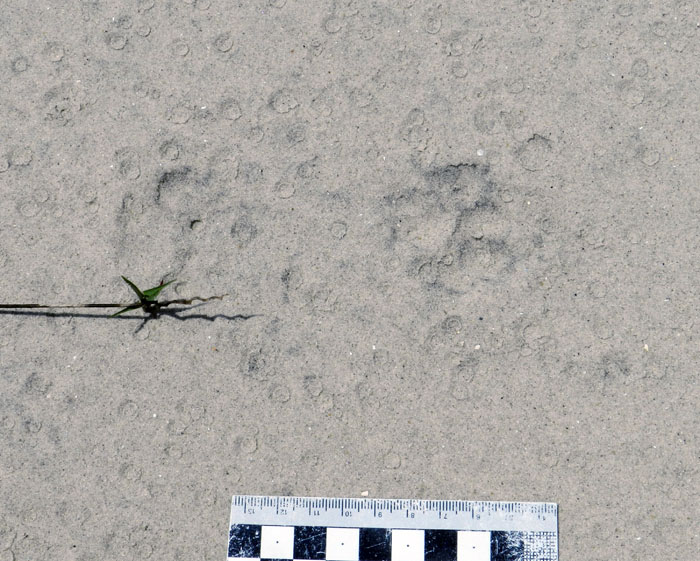 Feral cat cats on dune sands, probably a day old at the time the photo was taken, eroded by wind and rain (see the raindrop impressions?). How to tell cat tracks from little foo-foo dog tracks? Cats make round compression shapes, a three-lobed heel pad, and rarely show claws. (Photograph by Anthony Martin, taken on Tybee Island.)

Another possible trace from a feral cat was an opened bird egg we found on the dunes. Admittedly, I'm quite the ichnological novice when it comes to egg traces, and can't tell for sure whether this one was from predation (by a cat or other egg predator) or from hatching. But some clues are there, such as nearly half of the eggshell fragments adhering to the inside of the shell, instead of being absent.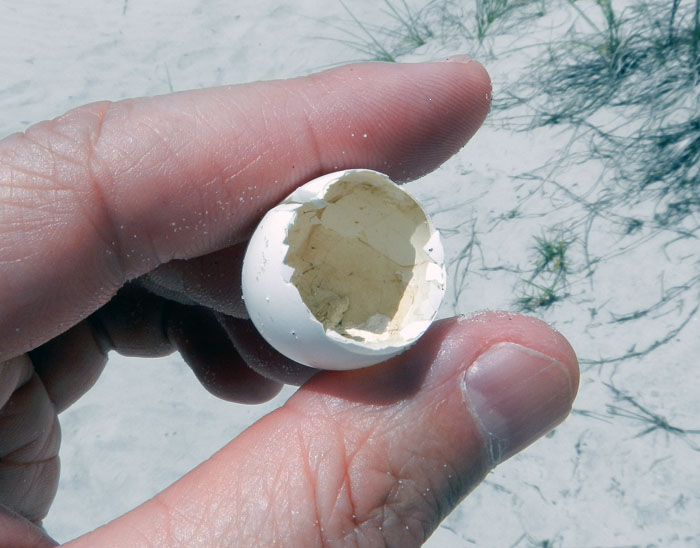 Is it a birth trace or a death trace? Empty bird eggshells always present such questions. (Photograph by Anthony Martin, taken on Tybee Island.)

Down on the beach, one of the most common (and hence easiest) traces to find on Tybee or any other developed island with clam or snail shells washing up on their shores are predatory drillholes made by moon snails, the lions of the tidal flat. Sometimes these shells also have smaller holes, which are made by clionid sponges. Shells can thus bear the histories of life-and-death and life-after-death.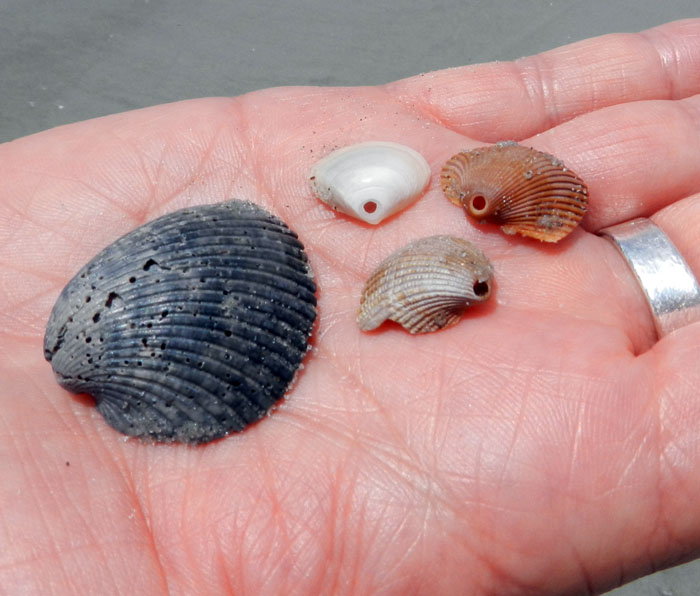 These shells are looking a little bored. (Yes, that's a pun, albeit not a very good one.) The clam shell on the left was bored by a clionid sponge, and the three shells on the right were made by moon snails, probably Neverita duplicata. (Photograph by Anthony Martin, taken on Tybee Island.)

Once we were off the beach and walking on a paved road to where the car was parked, the ichnology didn't stop then, either. In front of the car was a tree with some beautifully expressed rows of yellow-bellied sapsucker drillholes in its trunk.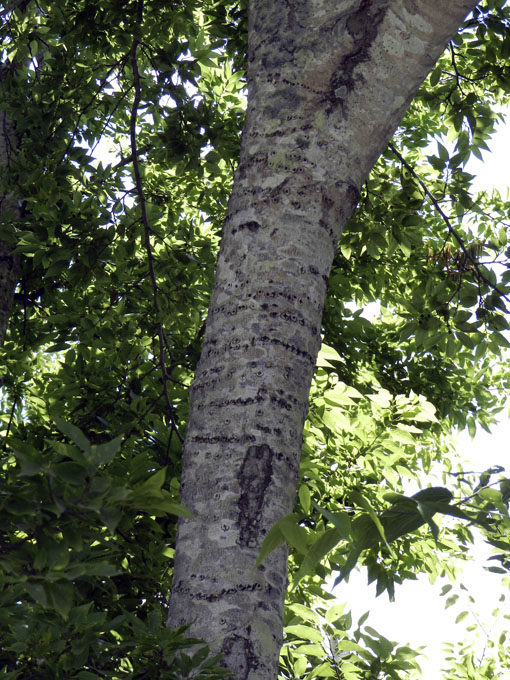 What can I say, I'm a sucker for sapsucker holes. (Photograph by Anthony Martin, taken on Tybee Island.)
So can you still do ichnology on Tybee Island, or other developed barrier islands, for that matter? Looks like…
So next time you go on that beach vacation to Tybee, Jekyll, St. Simons, or other developed barrier islands, may you likewise be pleasantly surprised on your ichnological endeavors. Good luck!