Field scientists have to get into the field. If they don't, they get cranky, narrow-minded, and – worse of all – feel like frauds. What's the cure for this malady? Getting into the field.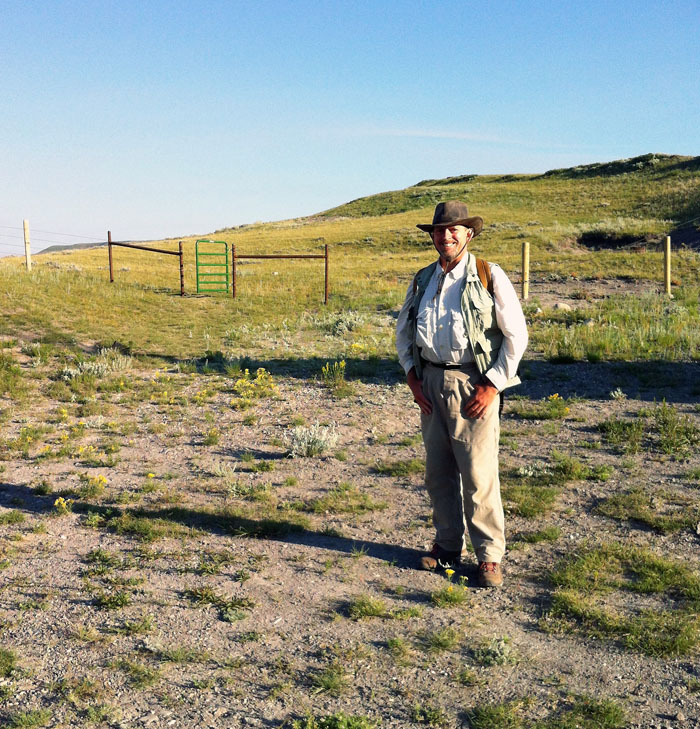 See that smile? That's a field scientist, who is out standing in his field. (Photograph by Paul Germano.)

This is the first summer since 2008 in which I did not have to edit or write a book. From 2008 to 2012, I was writing and editing Life Traces of the Georgia Coast (2013, 692 pages), and from 2012-2013, my literary efforts were devoted to Dinosaurs Without Bones (2014, 460 pages) So with these two books behind me and none in the making now, along with three merciful months off from my "day job" of being a college professor, I had few excuses for not getting outside to see some rocks and fossils this summer.
So it was with much joy when my long-time friend and fellow paleontologist David (Dave) Varricchio asked me earlier this year if I'd be interested in coming out to Montana to do some field work with him this summer. Even better, I'd get to do paleontological field work with him in the Late Cretaceous Two Medicine Formation (~75 million years old) at "Egg Mountain," a paleontologically classic area near Choteau, Montana. I said yes, have been here for a week now, and it's been glorious.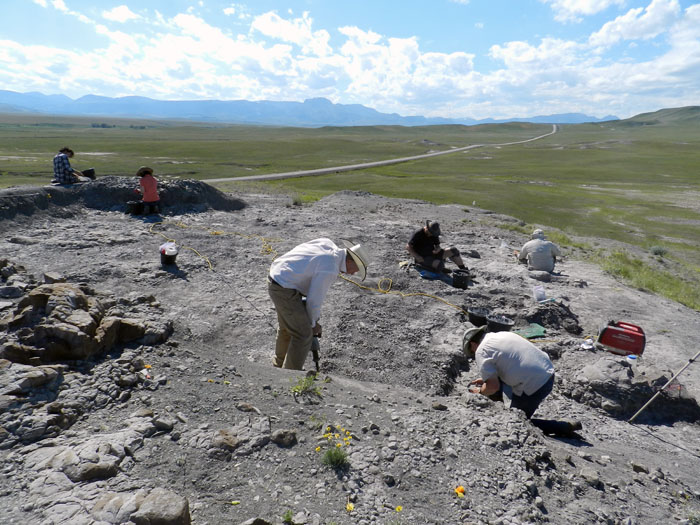 To look for traces, sometimes you have make your own traces. Here's this summer's Montana State University field crew excavating at Egg Mountain, where they're looking for dinosaur bones and eggs, while also cataloging trace fossils like insect cocoons and burrows. If you're looking for Dr. Varricchio, he's the one in the middle with the jackhammer. (Photograph by Anthony Martin.)
The main reason why the field site is called "Egg Mountain" is because it and other places in the area are where the first known dinosaur nests in North America were discovered by Jack Horner and Bob Makela in the late 1970s and early 1980s. They further uncovered evidence that at least one dinosaur here – the large hadrosaur Maiasaura peeblesorum – had extended parental care, taking care of its young in their nests well after hatching.
Later in the 1990s, Dave and his colleagues showed that the small theropod Troodon formosus made rimmed ground nests and arranged it eggs carefully in these nests. This combination of body fossils (bones and eggs) and trace fossils (nests and egg arranging) changed many of our views of dinosaurs, rendering their behaviors much less like reptiles and more like birds.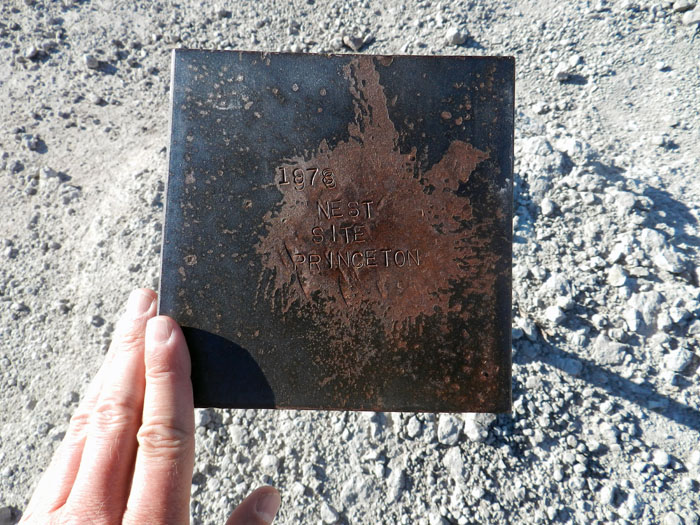 Sometimes I hear paleontology referred to as a "historical science," but it also has its own human history. This marker and several others in the field area mark where some of that history was made, with the discovery of the first known dinosaur nests in North America. (Photograph by Anthony Martin.)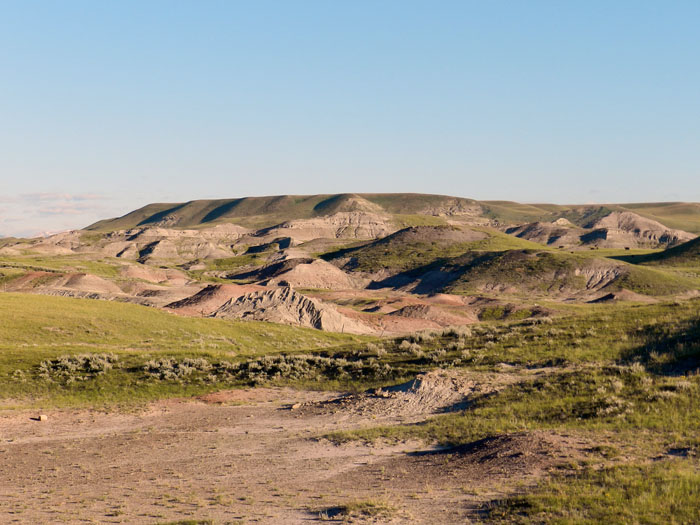 I love waking up to the Two Medicine Formation in the morning. And there's no shortage of trace fossils to discover in it with each waking day. (Photograph by Anthony Martin.)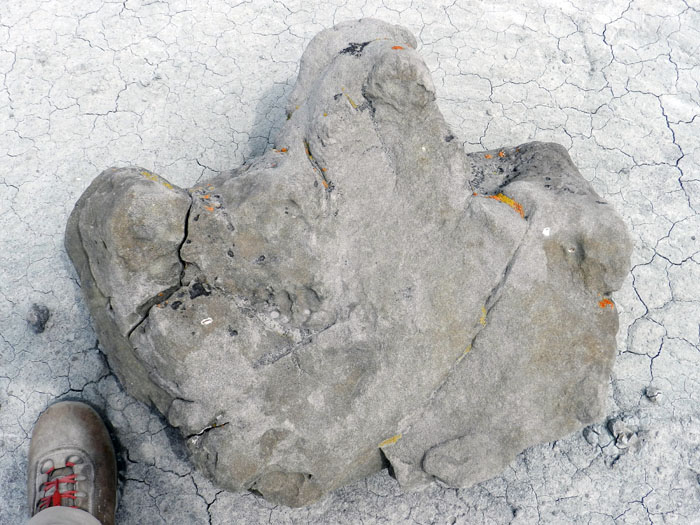 A natural sandstone cast of an adult hadrosaur, weathered out of the surrounding softer mudstone that – in the absence of bones – serves as a visual reminder of who lived in this area. (Photograph by Anthony Martin.)
I had been to this site three times before – 2000, 2008, 2009 – but each of those were short visits, the longest lasting only a week. This time, I would get to stay for as long as three weeks, which allows for plenty of time to better document the invertebrate and vertebrate trace fossils here. So far, I've only published one paper with Dave based on previous work in the Two Medicine Formation, which was on some of the insect trace fossils near the nest sites. These trace fossils gave valuable clues about how these insects lived, and in the same ecosystems as the nesting dinosaurs, which I'll happily cover in detail in my next blog post.
Insect burrow with pupal chamber (left) and two insect cocoons, one of which has a "hatching window" where the adult insect left the cocoon. Look closely and you'll see the original silk-weave pattern still on the cocoons, which are preserved as finely crystallized calcite. (Photograph by Anthony Martin.)
So with one week of field work done, I'm happy to report that plenty of trace fossils have revealed themselves to us, and I have every expectation that more will be found in the next two weeks. And this, boys and girls, is why I am a field scientist and paleontologist: to experience that joy of discovery that happens in the same places where the plants and animals of their ecosystems breathed and died 75 million years ago. Field work never fails to take me back in time, to when those animals behaved in ways that left their traces for us recent arrivals on this earth to appreciate with wonder.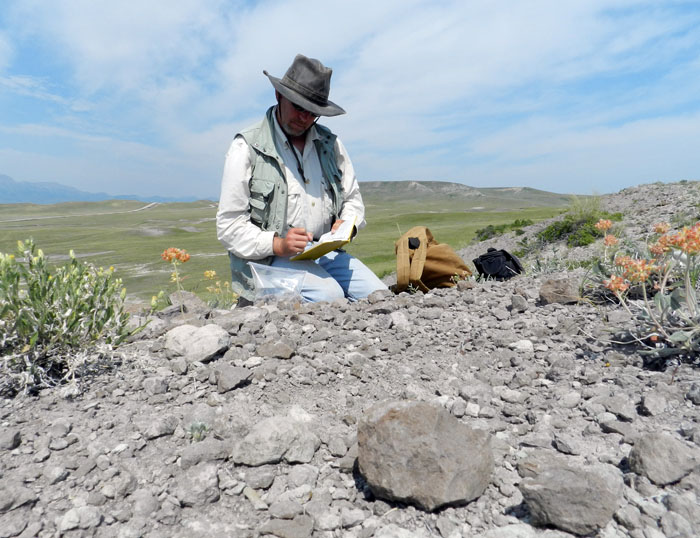 This is my office for the next two weeks. Not bad, huh? I could get used to this, and plan to. (Photograph taken by my camera, which was set on an automatic timer.)
(For another introduction to this field work, here's a blog post done cooperatively with my wife Ruth, who will be joining me here at the field site in just a few days.)