The wide variety of modern bird behaviors – as well as the traces that result from these behaviors – continue to captivate and fascinate me. Given recent revelations of birds' dinosaurian ancestry and the interrelationships of modern birds (an evolutionary history spanning more than 150 million years), this wonderment should be expected. Accordingly, then, the traces made by modern birds can be equally varied, and can serve as guides to the behaviors of their predecessors, especially when made by birds interacting with ecological margins (ecotones).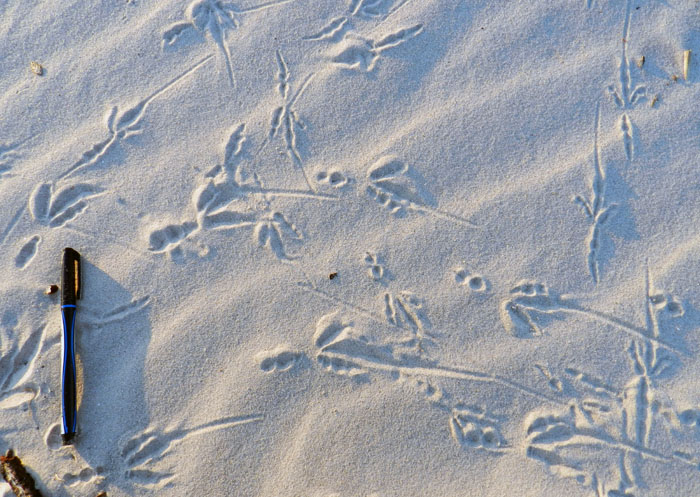 A mixture of tracks left by boat-tailed grackles (Quiscalus major) and American crows (Corvus brachyrhynchos) on wind ripples in the upper part of a sandy beach. So if paleontologists found something similar in the geologic record, would they be able to say more than "Looks like a bunch of birds were walking around"? That's why we look at modern traces and their associated behaviors: to get beyond such easy (and terribly incomplete) answers. (Photograph by Anthony Martin, taken on Tybee Island; pen is about 15 cm (6 in) long.)
The most recent example I witnessed of bird tracemakers and their traces in an ecotone setting was last month on Tybee Island (Georgia). Tybee is a barrier island just east of Savannah, and one I had visited in May, when I noted burrowing wasps in the coastal dunes there. The tracemakers were boat-tailed grackles (Quiscalus major), a passerine bird ("songbird") that people commonly see and hear along the Georgia coast. Grackles belong to to an evolutionarily related group (clade) called Icteridae, colloquially known as "blackbirds." I frequently see grackle tracks on the upper parts of beaches and in the dunes, where they are oftentimes the most common vertebrate traces above the high tide mark on Georgia shorelines.
What was strikingly atypical this time, though, was how all of the grackles I saw making tracks were adult females. Female grackles are distinguished from males by their brown coloration, whereas the males are iridescent black, almost deep purple when viewed in the right light. Female adult grackles are also noticeably smaller than adult males, at about 70% their lengths and half their weights. Like most passerine birds, grackles have four-toed anisodactyl feet, with the "thumb" (digit I) pointing directly backwards with respect to its three forward-pointing toes (digits II-IV). Such tracks show their feet are well adapted for grasping branches in trees; yet they hang out along shorelines and nest near water bodies. I also wondered whether the tracks of this gender-sorted assemblage could be distinguished from those of the larger males, but didn't get a chance to test this idea.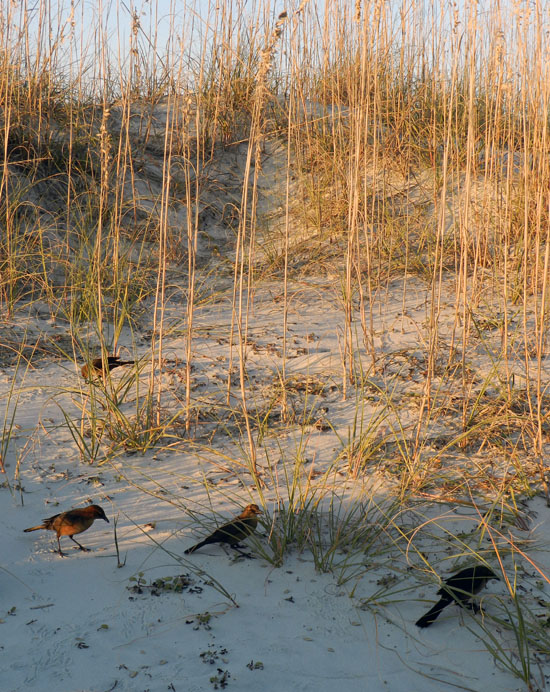 Girlfriends going out for a bite to eat by the beach: a group of boat-tailed grackles – all female adults – foraging in between the sea oats on the south end of Tybee Island. Here they were on the seaward side of the dunes, and just before sundown. (Photograph by Anthony Martin.)
Yet it wasn't track sizes that caught my attention: it was what they were doing and the traces they were leaving. They were actively foraging, walking in between stalks of the sparsely populated sea oats (Uniola paniculata), which were barely holding down the dunes. This meant lots of slow, methodical walking with their heads down, and beaks actively snatching anything of interest. What were they finding and eating? On an over-developed island like Tybee, it could be almost anything. Grackles are notoriously omnivorous, which explains why they've easily adapted and thrived along the eastern coast of the U.S. despite extensive human alterations to this island and elsewhere.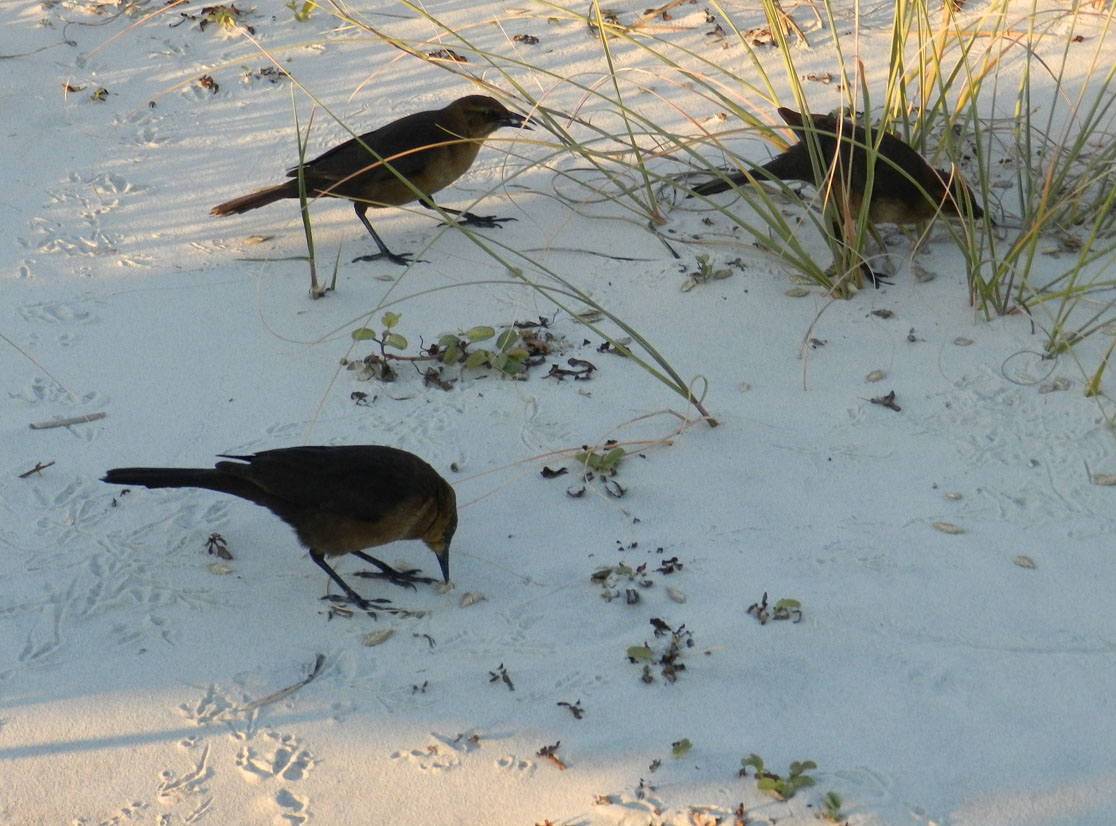 Grackles in different feeding postures: two with their heads down and feet together (foreground and right), and another with her head up and left leg ahead of her right, and all after walking slowly and stopping often. With that in mind, think of the trackway patterns that would correspond with these movements and postures. (Photograph by Anthony Martin, taken on Tybee Island.)
So here's what's cool: these grackles were eating locally by chowing down on sea oats. That's right, given all of the human-provided junk food they had available, they were going for the all-natural, organic, raw, and totally vegetarian option. (Tragically, it was not gluten free. But I think they were OK with that.) As a result, their tracks showed lots of short steps (diagonal walking) punctuated by "T-stops," where they stopped to place their feet side-by side (making a "T" pattern), all of which were accented by beak traces, the last of these intersecting depressions formerly occupied by the sea-oat grains.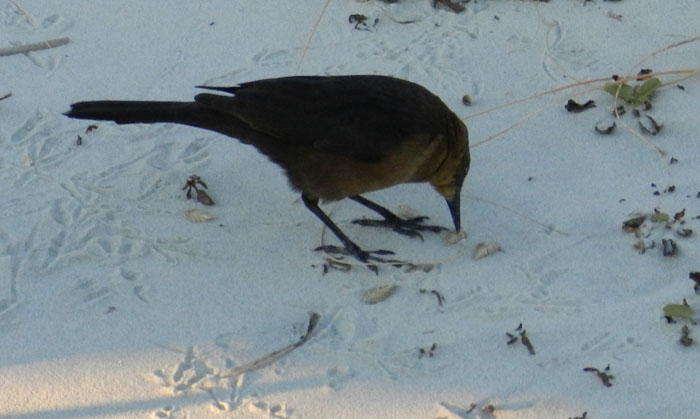 A close-up of the grackle from the previous photo, showing exactly why it stopped it with its feet together and put its beak down to the sand: fallen grains of sea oats. (Photograph by Anthony Martin, taken on Tybee Island.)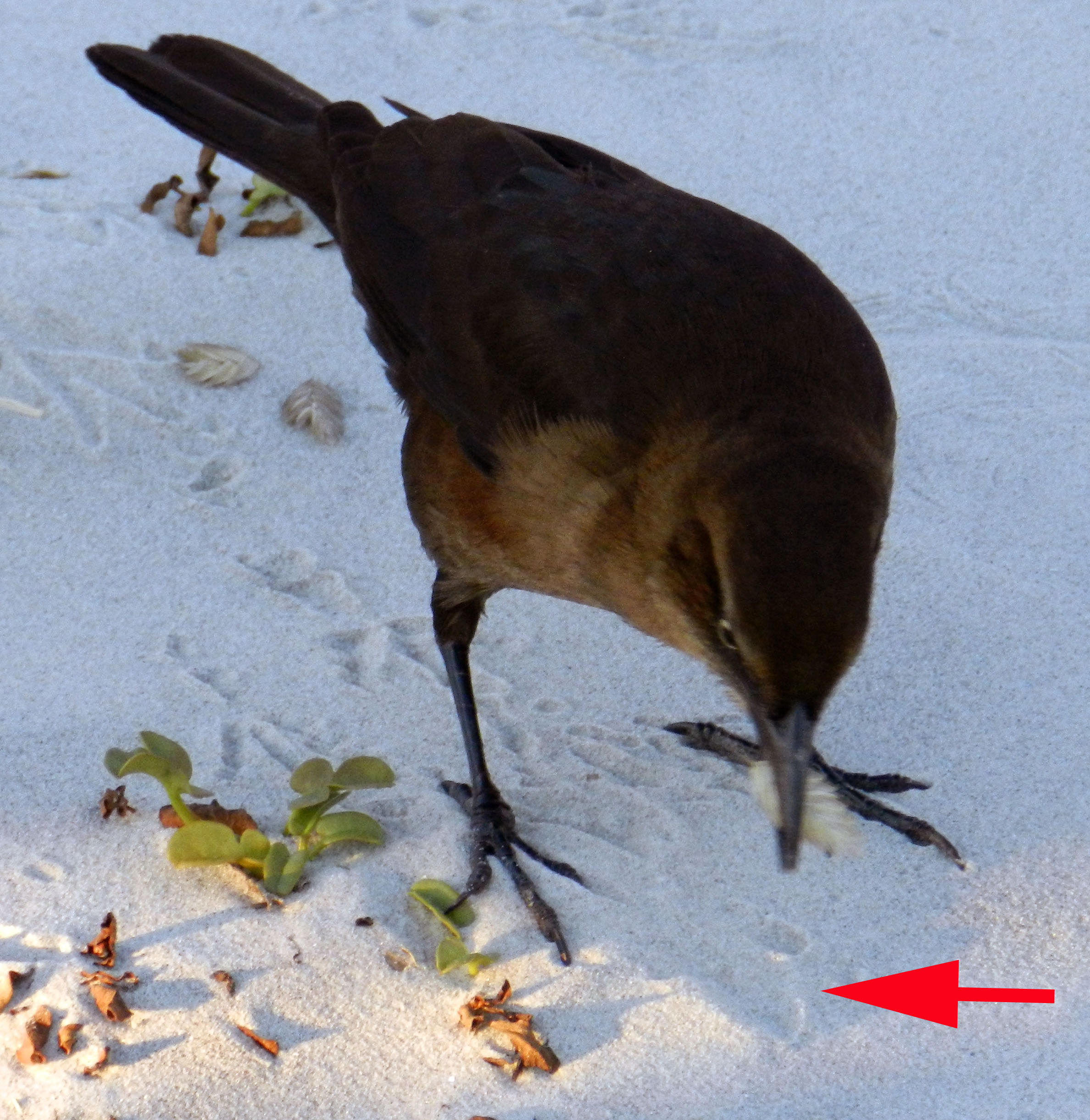 Another close-up of a grackle, but with sea oats in her beak. More importantly, check out the tracks behind her, the little depression where the oats laid on the sand (arrow), and the beak mark next to it that she made just before grabbing the grains. (Photograph by Anthony Martin, taken on Tybee Island.)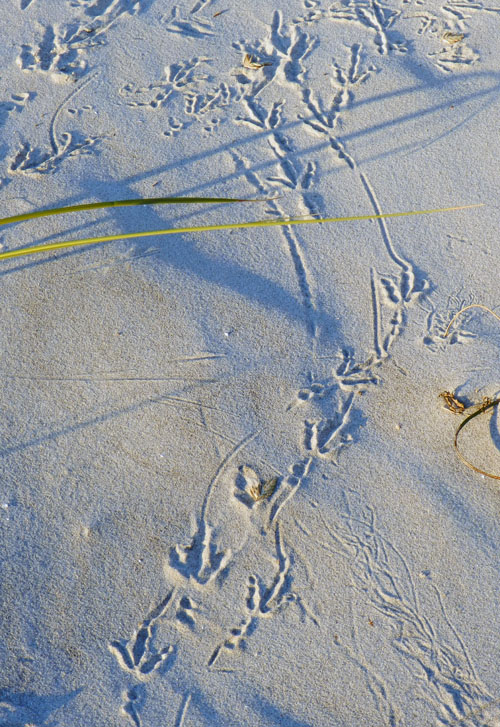 Boat-tailed grackle tracks that say, "I'm out looking for food, and whole grains only, please." Note the "T-stop" pattern in the tracks and a beak impression within the trackway (center bottom) coinciding with some sea-oat grains, and a similar set of traces toward further down the trackway. (Photograph by Anthony Martin, taken on Tybee Island.)
So if you've read anything written by me before now, you probably know what I'm going to do next. (No, not that. But maybe next time.) I'm probably going to say, "Hey y'all, why don't you look for traces like these next time you're out walking along the beach?" But I'm also likely to say, "Gee, I wonder if traces like these would show up in the fossil record?" Both are important questions to keep in mind, even though the first deals with the here and now, whereas the other dives into deep time.
As a paleontologist, though, I'm all about the deep-time question. For example, when did the ancestors of grackles and other blackbirds start eating seeds from the ancestors of the sea oats, and in coastal environments? How would we know when these proto-grackles started having cereal for breakfast? If any trace fossils that look like the ones shown here do somehow got preserved, they should help connect those dots between all of the genes, bones, and other scientific evidence we use to figure out the evolution of this diverse clade of blackbirds.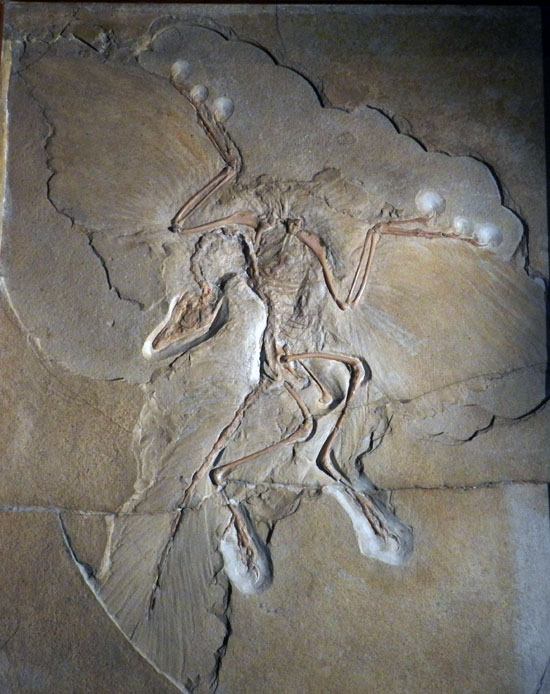 Yeah, I know, it's a body fossil. But hey, it's the Berlin specimen of Archaeopteryx, probably the most famous body fossil in the world, so it's OK. I was lucky enough to see it in person at the Museum für Naturkunde in Berlin early last month, and like most paleontologists who see it, I was awestruck by its 150-million-year-old beauty. Understandably, then, the evolutionary history of birds was on my mind when – three weeks later – I watched those grackles making traces on a Georgia beach. Will Archaeopteryx trace fossils ever be found? Let's hope so, and if they do, they deserve to be as famous as this specimen. (Photograph by Anthony Martin.)