I've always been a big fan of aquariums. Having grown up in the landlocked Midwest and not seeing an ocean with its bountiful life until I was 20 years old, I am still drawn to the old-school charm of big tanks filled with salt water and populated by exotic fish and other sea critters. These environments, however artificial, never fail to inspire awe and wonder. Even better, they often teach me something new and relevant each time I pay closer attention to what they hold.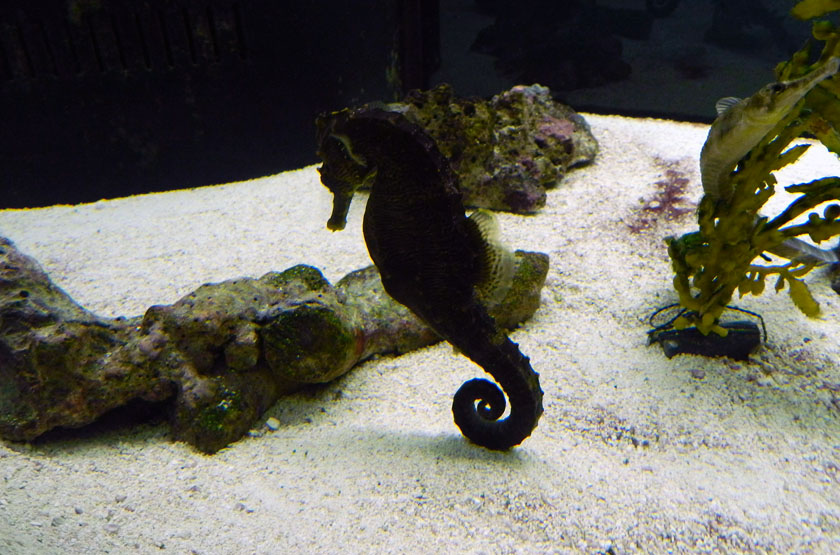 A seahorse, of course, is not a horse. But that's not the only way seahorses differ from horses, in that they leave trails instead of tracks. Intrigued? Yeah, me too. (Photograph by Anthony Martin, taken at the UGA Aquarium, Skidaway Island, Georgia.)
Nonetheless, I also have a "problem," which manifests itself whenever I'm at an aquarium, walking along a beach, sitting on a park bench, driving down a  road, or, well, conscious. As an ichnologist, I'm constantly looking for animal traces. Then once found, I study these traces carefully so that they may inform me whenever I see similar traces in the fossil record. But because I'm a land-dweller and rarely have the opportunity to snorkel or scuba-dive, aquariums come in handy for observing traces of aquatic animals I might not often see. Particularly helpful are aquariums in which the people caring for them were kind enough to include sand on their bottoms (the aquariums, that is).
So last weekend, while leading a class field trip to the Georgia coast and after a wonderful boat ride to Wassaw Island and back, I eagerly joined my students in viewing a salt-water aquarium. This particular venue was the UGA Aquarium (UGA = University of Georgia, Athens) is maintained by the UGA Marine Extension Service (MAREX) on Skidaway Island, Georgia. Our visit was especially satisfying because we were there on a Sunday afternoon, when the aquarium is closed to the public. This luxury afforded us plenty of room and quietude, qualities that are rumored to enhance learning.
Within just a few minutes of entering the main room, one tank to the right caught my eye, and not just because of its pretty colors, but for its denizens and traces on the sandy bottom of that tank. It contained seahorses, fishes that are so odd compared to other fishes, we humans had to compare them to hoofed domesticated mammals. The best part of all, though, was that this tank had lots of intersecting grooves and circular imprints on its sandy surface, which no doubt had been made by the seahorses.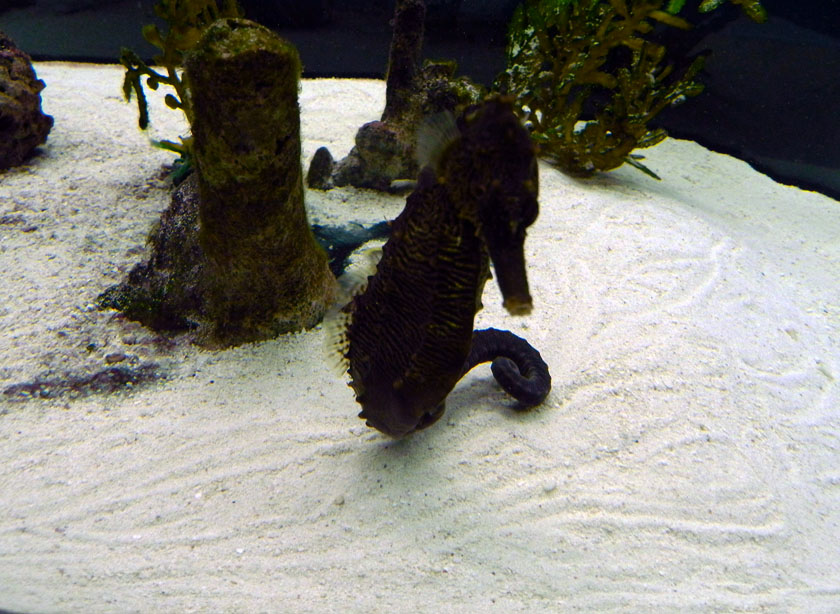 A seahorse (Hippocampus sp.) showing off its lack of swimming skills by moving along the sandy bottom of a tank. Gee, what are all of those meandering and intersecting grooves in the sand and circular imprints? I wonder what made those? Sorry, first guess doesn't count. (Photograph by Anthony Martin, taken at the UGA Aquarium, Skidaway Island, Georgia.)
All seahorses are under the genus Hippocampus, which consists of more than fifty species. Evolutionarily speaking, they are ray-finned fish (actinopterygians) and share a common ancestor with pipefish and sea dragons (Sygnathidae). The oldest known fossil seahorses are in Miocene Epoch rocks, from about 13 million years ago. Besides their equine-like profiles, they are well known for their prehensile tails, which can either grasp onto algae, sponges, or corals, or curl up underneath them as they swim.
However, seahorses are never going to inspire bets at underwater race tracks, as they are among the slowest-swimming of fish, propelled mostly by tiny pectoral fins while moving upright. Still, they don't need to be fast, as they are very successful predators, with about 90% accuracy in nabbing fast-swimming small crustaceans that get too close to their mouths. Seahorses also don't need to swim away from larger predatory fishes that might wish to pick them from a seafood menu. Whenever seahorses attach to algae and corals, they sway in harmony with their temporary hosts, effectively blending in with their surroundings.
One point I keep in mind whenever visiting an aquarium, zoo, or other such enclosures is how these can alter so-called "normal" behaviors of their animals. In this instance, the smaller space of this tank, combined with little material for attachment, meant these seahorses were more likely to swim along its bottom then they might in an open ocean. Accordingly, they had made lots of traces in the sand: mostly undulating grooves, but a few circular impressions from their curled tails plopping onto one side or the other.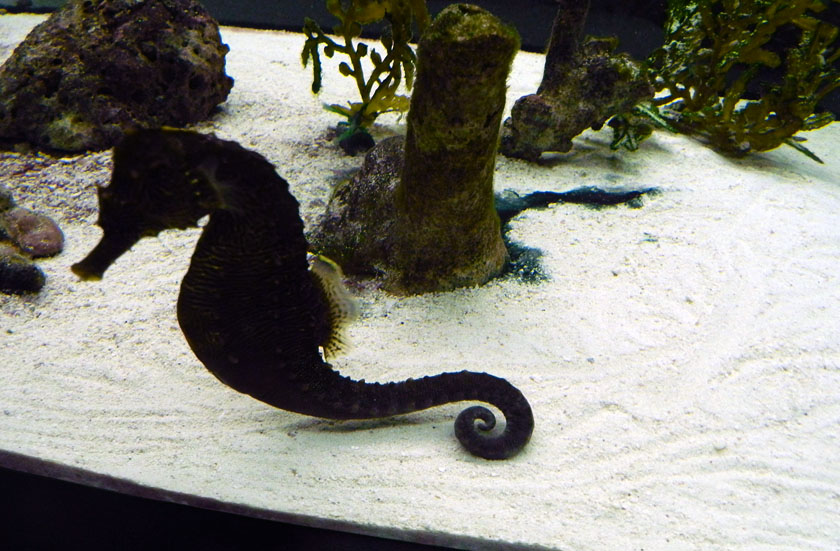 A seahorse making tail trails while swimming along the bottom of an aquarium. Notice how the trail would become less linear, wider, and more circular if the tail flops over to one side or another, involving a greater area of the curled end. (Photograph by Anthony Martin, taken at the UGA Aquarium, Skidaway Island, Georgia.)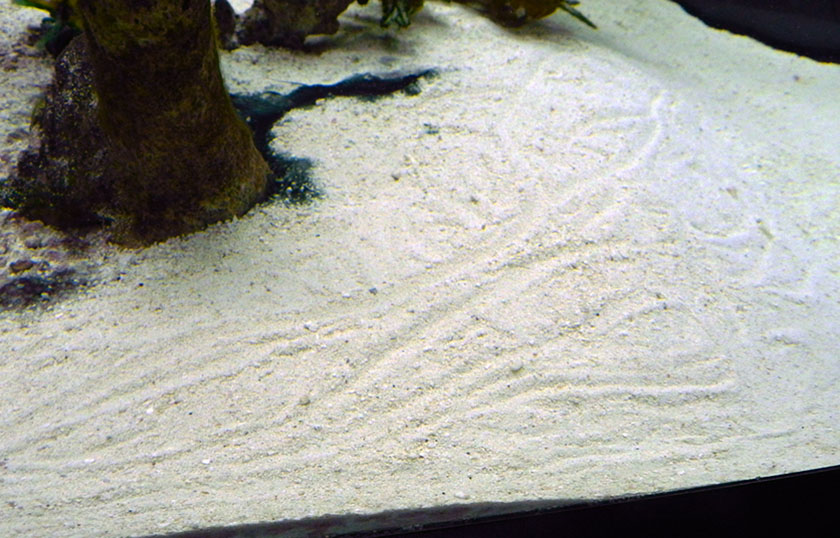 A close-up of those trails left by swimming seahorses dragging their tails along a sandy surface. Also, check out the overlapping circular "plop" traces on the right, made by the curled part of the tail? (Photograph by Anthony Martin, taken at the UGA Aquarium, Skidaway Island, Georgia.)
What's the take-home message of these observations for ichnologists, geologists, and paleontologists? That experience matters, as does questioning preconceived notions about what we might observe from the geologic record. Take a look at the preceding photo, and tell me – quite honestly – that your very first interpretation of the tracemakers would have been "fish," let alone "seahorse." Instead, I think nearly everyone (yes, me too) would have reached for the easiest answer, which would have been "worm trails," similar to how geologists reflexively apply "worm burrows to anything small, tubular trace fossil they encounter at an outcrop. Wrong, wrong, wrong.
So next time when looking at rocks formed in marine environments – whether from the last 13 million years or much older – and these rocks host lots of "worm trails" on their surfaces, ask yourself who else could have made such trails, and how. Reach beyond easy and ordinary explanations, and imagine. Oh, and when you go to aquariums, don't just look at their sea-life, but also the traces of the sea-life in them.