With the start of a new academic year, many university professors might be deliberating on what they'll be teaching, and many students similarly (and hopefully) might be wondering what they will be taught. For me this academic year, my plan is not to put so much emphasis on the "what," but more on the "how," and put it in the form of a basic question: How could I be wrong?
In my experience, this is a question we professors and other educators we often ask, regardless of whether we are in the natural sciences, social sciences, humanities, or some blend of those educational realms. Now, this is not to say that we should continuously live our lives in doubt of our hard-earned skills and knowledge, succumbing to imposter syndrome. So what I will suggest is that we use it in our teaching, leading by example for our students. For instance, when my students see me question an initial interpretation of mine, correct that wrong interpretation, and show delight when this happens, then they will feel more comfortable asking themselves the same question, too.
So how do I apply this method to my research disciplines of paleontology and ichnology? If I am observing a natural phenomenon in the field, museum, or other settings, and I find myself jumping to a conclusion too rapidly, I take a moment to pause, back up, and try to disprove that hasty conclusion. Sometimes it turns out that, yes indeed, I was an idiot. But if this debunking process fails to find anything terribly wrong with my original explanation, or I modify it accordingly in the face of newly acquired evidence, then I'll think this: So far, so good.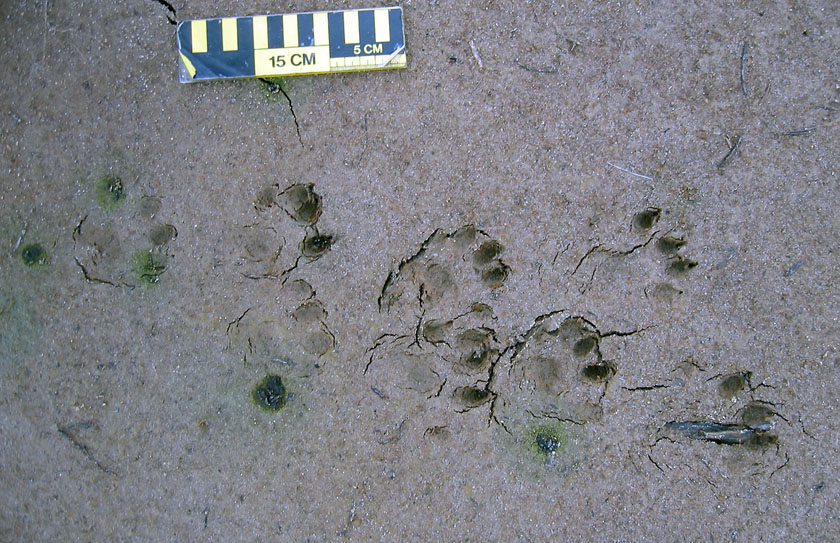 Whoa, check out the tracks made by this eight-legged river otter! This eight-legged otter must have been the result of some freak mutation, or genetic engineering, or joined twin otters, or a robot spider with otter feet…What? Was it something I said? (Scale in centimeters; Photo by Anthony Martin.)
Moreover, because so much of paleontology and ichnology involves interpreting the products of non-witnessed lives, behaviors, and environments, such as bones, shells, leaves, tracks, and burrows, careful documentation of this evidence is key for making reasonable interpretations. Because we can't prove ourselves wrong by watching a video of whatever happened in the pre-human past, we also have to ensure that the evidence can be shared and evaluated by other paleontologists and ichnologists.
In the following video, I explain these two basic scientific principles – how could I be wrong, and so far, so good – by using a few examples from a forested area next to the Emory University campus in Atlanta, Georgia. This is the place where I often teach first-year (freshman) students in a small-class seminar how to track the animals on and around our campus. Because most of these animals are nocturnal, most remain "invisible" to the students' during their four years on campus. So my students really do learn how to use trace evidence to make reasonable hypotheses about animal presence and behaviors, and by the end of the semester, they get pretty good at it.
This sort of educational fruition is what made for the most fun part about doing this video, which was having a former student of mine who took the class four years ago play the role of my willing and eager "student." In this, we demonstrated how the two basic principles – how could I be wrong, and so far, so good – are applied when in the field. It actually wasn't much of a stretch for my former student, as Dorothy (Dottie) Stearns (Emory College '16) was one of my best students in the class when she took it, and she really enjoys getting outside and tracking, so her enthusiasm is genuine.
The video is part of a series that Emory is producing on the theme of Evidence at Emory, with professors from a wide variety of disciplines explaining how they incorporate evidence-based reasoning in their courses. First-year students at Emory are the specific target of the videos so they are exposed to different disciplines and how scholars evaluate evidence in those disciplines. But there's also hope that students will retain these discernment skills in life after college. Nonetheless, I think anyone who likes observing and thinking about what they observed can benefit from watching them. I could be wrong on that, but if not, I'm fine with that, too: for now.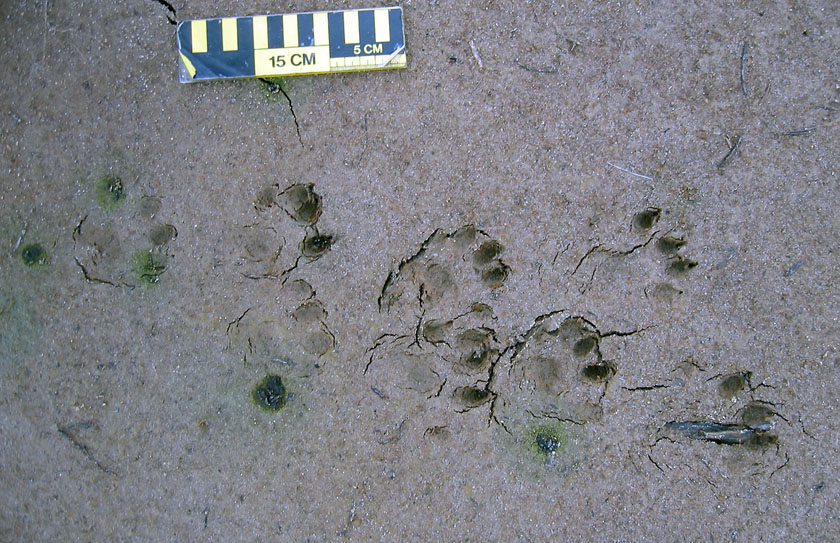 Wait a minute, you're saying these tracks could have been made by two otters, with one following closely behind the other? Huh, hadn't thought of that. But that doesn't mean eight-legged otters aren't out there somewhere. Or freak mutated otters. Or genetically engineered otters. Or a robot spider with otter feet. What? Was it something I said?
Acknowledgements: Thanks to the Quality Enchancement Plan of Emory University for encouraging me to more overtly incorporate evidence as a main theme in my class, to Dottie Stearns for being such an awesome student/actor, and to the Center for Digital Scholarship, also of Emory University, for their fine work on the video production.