Upon learning that Godzilla would be making its way back onto movie screens this summer, my first thought was not about whether it would it would serve as a powerful allegory exploring the consequences of nuclear power. Nor did I wonder if it would be a metaphor of nature cleansing the world's ecological ills through the deliberate destruction of humanity. Surprisingly, I didn't even ponder whether the director of this version (Gareth Edwards) would have our hero incinerate Matthew Broderick with a radioactively fueled exhalation as cinematic penance for the 1998 version of Godzilla.
Instead, my first thought was, "Wow, I'll bet Godzilla will leave some awesome tracks!"  My second thought was, "Wow, I'll bet Godzilla will leave some awesome bite and claw marks!" My third thought was, "Wow, I'll bet Godzilla will leave some awesome feces!" All of these musings could be summarized as, "Wow, I'll bet Godzilla will leave awesome traces, no matter what!"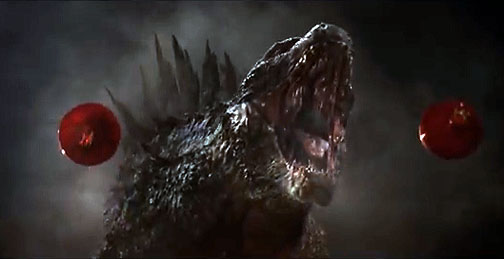 Godzilla: King of the Tracemakers. (Image and most others here from the movie were taken as screen-capture stills from the official trailer here and modified slightly for your science-learning pleasure.)
So as an ichnologist who is deeply concerned that movie monsters make plenty of tracks and other traces whilst rampaging, I am happy to report that yes, this Godzilla and its kaiju compatriots did indeed make some grand traces. Could they have made traces worthy of ichnological appraisal, ones that could be readily compared to trace fossils made by Godzilla's ancestors? Yes, but these traces could have been better, and let me explain why.
[Minor spoilers follow, not least of which include the not-surprising news that The King of the Monsters prevails in the end, inevitably setting up a sequel in which I sincerely hope Godzilla and his rivals make more easily defined traces.]
Early on in the movie – set in 1999 – a surface mine in the Philippines collapses. Drs. Ishiro Serizawa (Ken Watanabe) and Vivienne Graham (Sally Hawkins) are summoned to the site and quickly whisked underground. There they find a spacious chamber containing body fossils – bones or similar endoskeletal parts – of an enormous creature. Instantly, I began yawning. I mean, body fossils: how boring.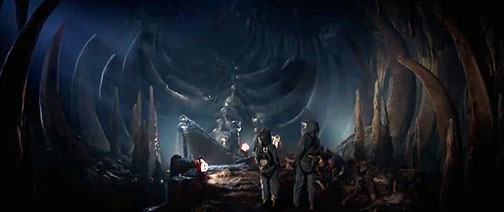 A bit of paleontology near the start of Godzilla, in which some of the humans (who are mostly irrelevant) find skeletal remains underneath a surface mine. Little do they know they're about to undergo enlightenment and become ichnologists.

But then I sat upright in my seat when I realized – along with the screen scientists – that this chamber wasn't a mere tomb, but also a place of rebirth: it was a hatching chamber. Views from inside and outside of the chamber then revealed the ichnological money shots of the movie, showing first an emergence burrow, then an emergence crater* connecting to a trail, the latter cutting a swath through the forest and leading directly to the sea. This was trace evidence of a yet-unseen monster that was very much alive, and one that was brooded and born in a subterranean terrestrial environment, but then moved to an oceanic environment.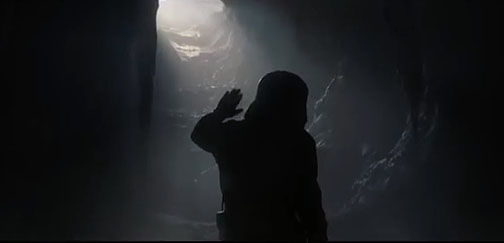 Dr. Serizawa sees light at the end of the tunnel, and it's not from an oncoming train, but something far worse. Still, it's a cool example of an emergence burrow, so there was some consolation.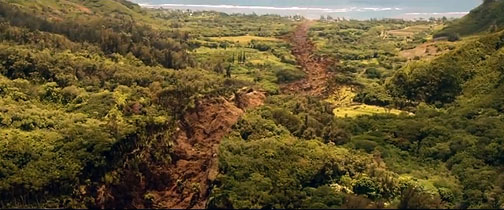 Kaiju emergence burrow connected with a kaiju trail, leading to the sea. So this is definite trace evidence of a heterometabolous animal, with different stages of its metamorphism (terrestrial egg –> marine larva) taking place in different environments. Unlike, you know, Gregor Samsa, who just stayed terrestrial.
A map of seismic signatures shown later in the film denoted where the animal burrowed in the seafloor from the Philippines to Japan, which would have made for one hell of a burrow. Why was this massive animal using so much energy to burrow to Japan? For some radiogenic sustenance, of course, which was conveniently located in a nuclear-power plant there. The "M.U.T.O.," (= "Massive "Unidentified Terrestrial Object") then caused a collapse of that power plant, thus qualifying as a feeding trace, rather than plate-tectonic-induced earthquake damage, which is what became the official story. That's right, geophysicists: you'd better start studying some ichnology if you want to correctly interpret what's causing those rapid releases of tensional energy that excite you so much. (I'm talking about earthquakes, you perverts.)
Anyway, people die, 15 years pass, families grow apart, blah blah blah, when the action finally returns to something that really matters, like monsters making traces. It turns out the Japanese government had been hiding the truth from the public, which, much like Tom Cruise, can't handle it. The kaiju not only fed on a nuclear reactor in Japan, but also pupated there. As an example of how gigantic, deadly animal traces can be the real "job creators" in a modern economy, a huge industrial complex with hundreds of Japanese and American employees was monitoring the cocoon, with Drs. Serizawa and Graham as scientific advisors.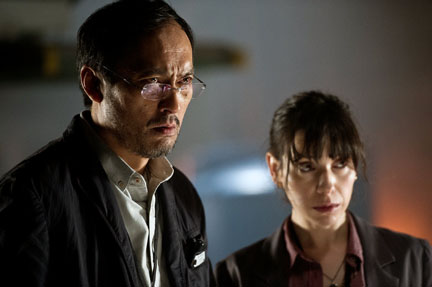 Who knew these actors – Ken Watanabe and Vivienne Graham – were actually playing ichnologists in the new Godzilla movie? Just about nobody, including them. (Photograph originally credited to Kimberley French, AP, and much reproduced elsewhere.)

The adult M.U.T.O. that emerged from the cocoon fractured the outer casing, broke through the steel cables that were supposed to restrain it, and immediately started making some tracks. So those are some mighty fine traces, and it was a pleasure watching them get made.
What about its tracks, though? Despite the kaiju's blend of tetrapod and insect qualities, it had eight appendages and used six while walking – four forelimbs, two of which were wings, and two hindlimbs – making it hexapedal. Moreover, it used an alternating gait, similar to those used by pterosaurs or bats (if they had an extra pair of limbs, that is). Hook-like ends on the forelimbs would have made elongate impressions, and literally impressed a few panicked employees as the monster escaped. On the other hand, er, appendage, the hindlimbs looked as if they were terminated by flat-bottomed hooves. So if one were inclined to track this M.U.T.O, its trackway patterns might have looked like the following: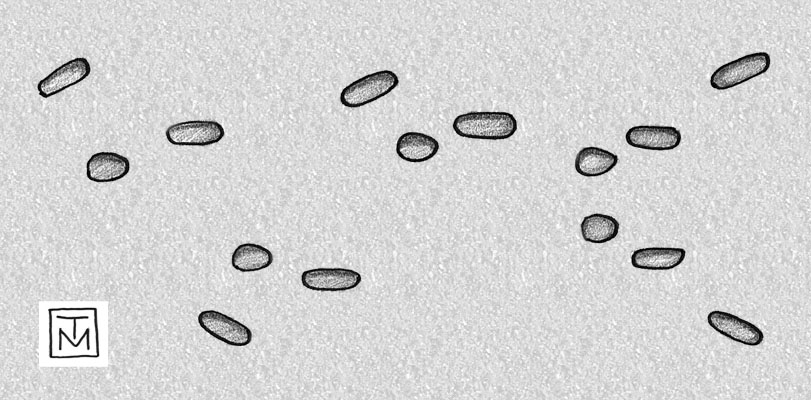 Hypothesized male (winged) M.U.T.O. trackway pattern, moving from left to right, showing normal walking that ends with take-off. Wing impressions are on the outside and angled, whereas the forelimb tracks are just inside the trackway, and the hindlimb tracks are closest to the midline. Take-off pattern is at the end, with wing impressions forward so that, like a giant pterosaur, it could "pole vault" for its launch. What's the scale? Really big. (Illustration by Anthony Martin.)
Toward the end of this scene, we find out this kaiju was also flight capable, as it takes off from its former pupation site. Accordingly, it would have made both take-off and landing track patterns, which have been interpreted in the fossil record for pterosaurs and birds, but from nothing nearly as big. (Oh, how I dream of finding Queztalcoatlus take-off or landing tracks some day…) This switch from terrestrial to aerial locomotion is noted in one of the few funny lines uttered in the movie, when U.S. Navy Admiral William Stenz (David Strathairn) first refers to the kaiju as a M.U.T.O., but then updates the status of its behavioral ecology by saying, "It is, however, no longer terrestrial, as it is airborne."
Later in the movie, another tracemaking M.U.T.O. emerges from its pupation site –a nuclear-waste repository in Yucca Mountain, Nevada – and proceeds to leave a trail of devastation through Las Vegas, which included killing lots of people who probably bet that wouldn't happen to them.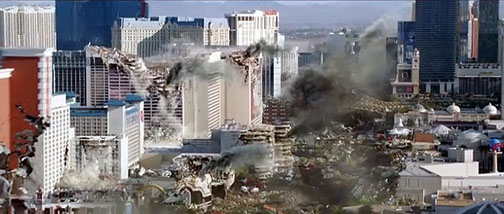 Leaving Las Vegas, female M.U.T.O. style, with a well-defined trail in its wake, and perhaps knowing it should have taken a left turn at Albuquerque. Hey, U.S. military: I think it went that way!
This kaiju was female and much larger than the male, thus providing a great example of sexual dimorphism in tracemakers of the same species, as seen in horseshoe crabs (limulids) and many other animals. This meant its trackway width would have been correspondingly wider than that of the male, and its tracks larger. It also lacked wings, with the homologous pair of limbs used instead for walking. Consequently, the kaiju's locomotion (and hence its tracemaking) was restricted to terrestrial environments, with no take-off or landing tracks. So if any more of these monsters came out of the ground, such ichnological knowledge might come in handy for the U.S. military (or recreational hunters) to know which gender of a M.U.T.O. pair they might be tracking.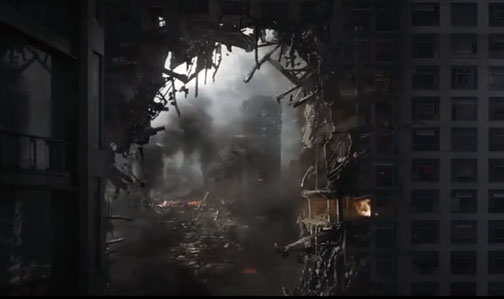 Bioerosion trace (boring) made by M.U.T.O. as it encountered a human commerce-generating hive in San Francisco. Unlike most bioeroson structures, this is a locomotion trace, rather than a dwelling or feeding trace.

Other tracemaking done by the M.U.T.O.s included mastication marks on a Russian nuclear submarine and some ICBMs, a little bit of bioerosion when they walked through buildings, and – following some kaiju courtship and sexy time – a nest structure made in San Francisco (no doubt inspiring a new song titled I Left My M.U.T.O. Nest in San Francisco). The nest structure was in the style of those made by many shorebirds, looking like a scratched-out hollow, with the trivial differences of being hundreds of meters across, about a hundred meters deep, and composed of urban debris. The fertilized eggs were in the middle of the structure and attached to an ICBM, like a sort of atomic yolk sac. Overall, it was a tremendous nest structure, dwarfing those likely made by the largest known sea turtle, Archelon from the Late Cretaceous Period, which would have been a mere 10-15 m (33-67 ft) across.
OK, enough about the M.U.T.O. tracemakers. What about our beloved behemoth, The King of the Monsters, The Stomper with the Chompers, Godzilla? The movie – much like this review – held him back until about an hour into the story, only giving us teasing glimpses from photographs over the past 60 years. Sure, this was done deliberately to build suspense, but the title of the movie wasn't M.U.T.O.s Making Traces (although it could have been, and I would've been fine with that). So I was more than ready for Godzilla to leave some tracks, bite marks, and other megatraces that would have made the world's largest dinosaurs' traces look puny by comparison.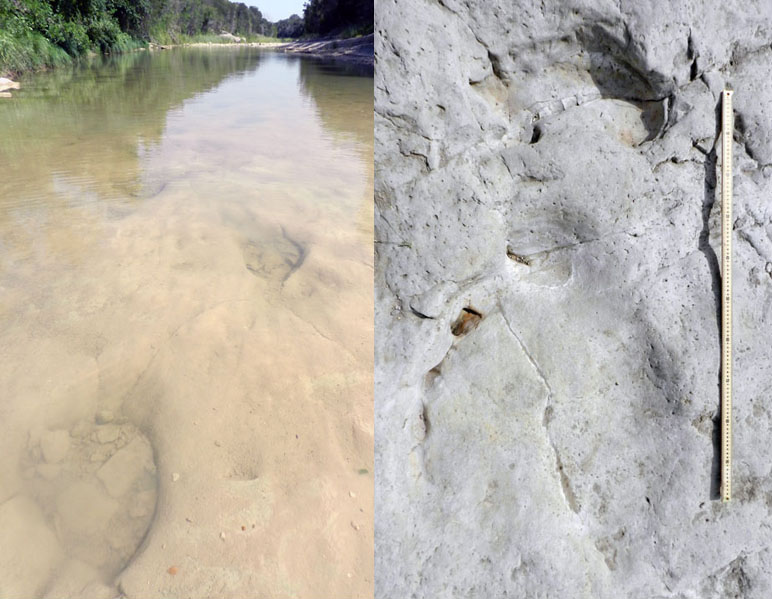 Tracks on the left are of a sauropod dinosaur trackway in an Early Cretaceous (about 100-million-years-old) limestone bedrock in the Paluxy River of Texas. Tracks on the right are in rocks of same age and area, with left-side front- and rear-foot tracks; the stick is a meter long. For comparision, one Godzilla track would exceed the width of the river. (Both photographs by Anthony Martin, taken in Dinosaur Valley State Park, Texas; to read more about those tracks, go here.)
Did Godzilla leave any clearly defined tracks in the film? Oddly enough, no: imagine my disappointment. Such a glaring ichnological absence led me to believe that Godzilla tracks must not have been a high priority in director Gareth Edwards's mind while making the film. This is also a rare instance of where the 1998 version of Godzilla surpassed the 2014 one, in that a few nicely outlined tracks were shown in the former.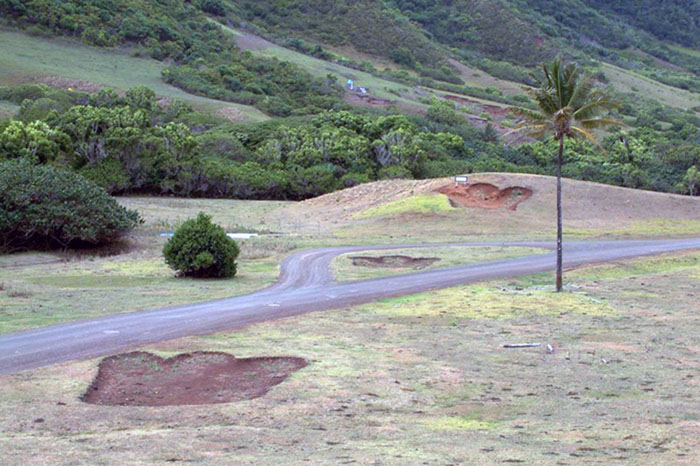 Godzilla trackway made for 1998 movie, still visible on Oahu, Hawaii. Photo from http://the-american-godzilla.wikia.com/, credited to "Varg2000."
However, had Edwards decided to add the scientific excitement that would have been induced by overhead views of Godzilla tracks, they would have looked a lot different from the 1998 ones. Although all movie versions of Godzilla have shown it as bipedal on land, the monsters' feet have been different. For instance, the 1998 Godzilla tracks were definitely modeled after those of theropod dinosaurs, with three separated and forward-pointing toes adorned by sharp claws, albeit greatly up-scaled. According to a reporter in Hawaii who saw one of the Godzilla footprints, he estimated it was about 12 feet long (3.6 m). So using a footprint formula applied to theropod dinosaurs, where the footprint length is multiplied by 4.0, the hip height of that Godzilla would have been 48 feet (14.5 m).
For those of you who have a monster foot fetish, you're in for a treat. This video shows nothing but close-ups of Godzilla's feet landing on and crushing stuff in the 1998 movie.

In contrast, the new Godzilla not only had a pedicure, but also a major foot makeover. Instead of three separate toes, this one has four toes scrunched together into more of an elephantine or sauropod-like configuration. It still has claws, but they look much more robust than those of the previous theropod-like feet of its predecessor, and more like those of a sauropod. Accordingly, Godzilla tracks from the 1998 movie versus the 2014 one would have been way different from one another. This means that a skilled movie-consulting ichnologist could have easily distinguished the two films just by glancing at tracks shown in each. (Mr. Edwards, please do keep me in mind if you need an ichnological advisor for Godzilla 2.)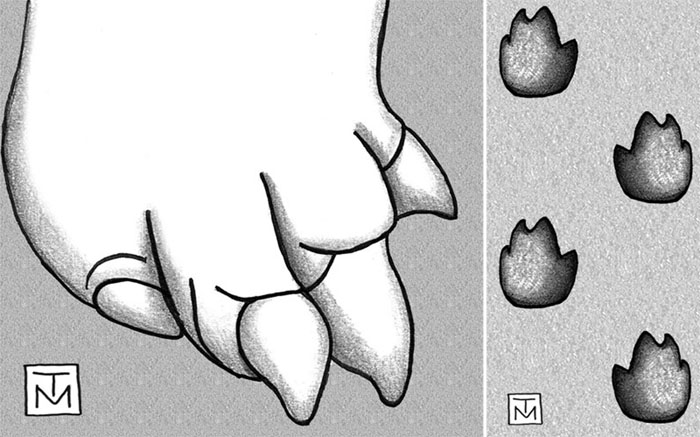 (Right) Right-foot anatomy of 2014 version of Godzilla, nearly as wide as long and with four digits ending in stout claws. (Left) Hypothesized trackway pattern for present version of Godzilla, using its normal city-destroying gait. Notice its wide stance, like that of a certain retired U.S. senator. A tail drag-mark is not included in this diagram, but probably would have registered once Godzilla stood more upright, such as to kick some M.U.T.U. abdomen. (Both illustrations by Anthony Martin, but foot anatomy is composite drawn freehand from unattributed online photos, such as this one.)
Something important to also note about these trackways is the lack of any tail drag marks. This is because both the 1998 and 2014 Godzillas kept their tails off the ground, which aligns with modern interpretations of how theropod dinosaurs walked. The original Godzilla – and many sequels after it – showed it dragging a weighty tail behind it. This behavior would have left a deep groove in the middle of the trackway, perhaps with a slight undulating pattern caused by side-by-side movement. This would have looked sort of like an alligator or crocodile trackway, but with only right-left tracks, because Godzilla was walking more like some guy wearing a rubber suit.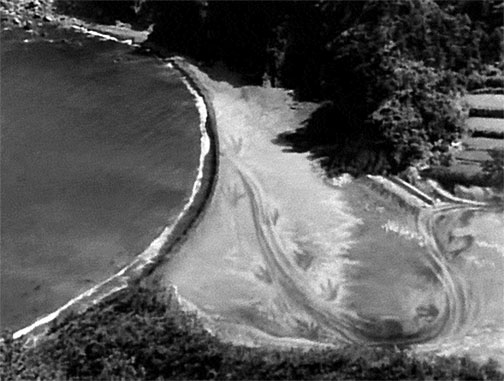 Still taken from original 1954 Godzilla (Gojira), showing a bipedal trackway going from a terrestrial to marine environment. But also check out the prominent groove in the middle of the trackway, caused by a tail dragging behind it, and four forward-pointing toes on each foot.
What other traces would I have really liked to see Godzilla make, ones that would have made me stand up in the theater and scream "Ichnology for the win"? My #1 and # 2 choices, in that order, would have been urination marks and feces. In my latest book, Dinosaurs Without Bones (2014, Pegasus Books), I've written about trace fossils linked with dinosaur urination and defecation; dinosaur coprolites in particular are great trace fossils for showing what dinosaurs had for lunch millions of years ago. Alas, Godzilla performed neither excretory behavior in the movie, but that didn't stop at least one scientist from speculating on how much urine this Godzilla would have produced.
So for my upcoming post, I'll explore the possibility of a Godzilla urination trace. What mark would Godzilla have left if he got really pissed? Tune in next week, and in the meantime, enjoy seeing the movie. but now with an added ichnological perspective.
Other "Science and Godzilla" Posts
The Impossible Anatomy of Godzilla (Danielle Venton)
Godzilla Gets Bigger Every Year (Rhett Allain)
The Impossible Gait of Godzilla (Ria Misra)
Reviewing the Science of Godzilla for Plausibility and Imagination (Mika McKinnon)
The Science of Godzilla (Scott Sutherland)
The Science of Godzilla, 2010 (Darren Naish)
*Just as a cool astronomical-geological-ichnological-cultural aside, indigenous Australians first interpreted a meteorite impact structure in Wolfe Creek Crater National Park of Western Australia as an emergence crater made a great, burrowing snake. Some stories that involve traces seem to repeat themselves in our human history.