For reasons unfathomable – but ultimately forgivable – I had never talked about my 2013 book Life Traces of the Georgia Coast in the lovely and historic city of Savannah, Georgia. There were many reasons for me to go there, preach the gospel of traces, and otherwise enlighten its citizens about the Holy Trinity of Ichnology (Substrate, Anatomy, and Behavior – amen, brothers and sisters!). For one, Savannah is not only the largest city in Georgia along its coast, but also has inspired many writers as a place. Even better, a good number of people there are keenly interested in the nearby ecosystems and non-human life inhabiting the Georgia coast. So it made sense to visit  and plug my book, which, despite having been out for more than a year, was regrettably unknown to most people in Savannah. Yeah, I know, some other book got in the way during the past year, but still.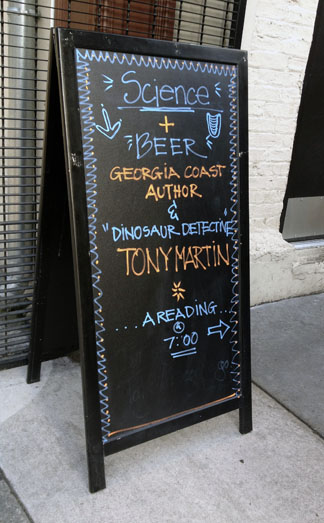 Who could resist the winning combination of science and beer? Here's the sign we put out at Moon River Brewing Company in Savannah, Georgia as a siren call to those who might have wandered by. Lettering by Savannah artist Betsy Cain and trace fossil icons (theropod track on the left and a U-shaped burrow on the right) by me. (This photograph and all but the last were taken by Ruth Schowalter.)
With the help of well-connected friends there (who I hereby dub The Hartzell Power Couple™), we arranged for a book-related event in Savannah at a downtown microbrewery – Moon River Brewing Company – and placed it in their new outdoor beer garden. (Sorry bookstores, museums, and universities, you just can't compete with that.) A local independent bookstore, The Book Lady Bookstore, helped out by selling my more recent (and much more reasonably priced) dinosaurian-themed book. But I also brought copies of Life Traces of the Georgia Coast for anyone interested in getting it for a bargain  from the author. Major bonus: all conventional author traces in these books (otherwise known as "autographs") are always accompanied by my original drawing of a trace.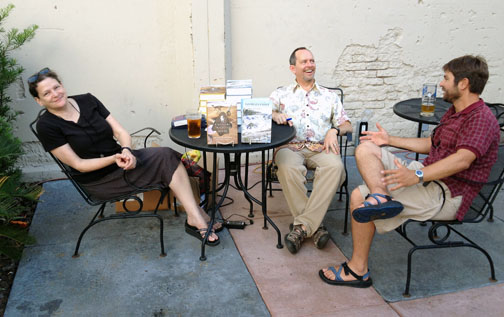 Chatting with the locals, including (left to right), environmental activist Ann Hartzell, my two most recent books, me, and an anonymous geologist (right) who stopped by to talk about geology and paleontology. How can you tell he's a geologist? Note the voluminous but mostly empty stein just behind him.
Advance publicity for the event was excellent, too, exceeding the expectations of most authors who wistfully hope that more than five people hear about their book-related event. For instance, Leslie Moses, a reporter for the local newspaper (the Savannah Morning News) wrote an article about my book, which included a nice photo of me standing (appropriately enough) on the Georgia coast. A reporter for the free weekly paper (Savannah Connect), Jessica Leigh Lobos, also conducted a delightful interview with me, in which I got to connect (get it?) both Life Traces of the Georgia Coast and Dinosaurs Without Bones via their common theme of ichnology enriching our otherwise mundane lives. Yet another reporter, Mary Landers (again for the Savannah Morning News) wrote a fun announcement about the event in which she alluded to my recent blog post about Godzilla's tracemaking abilities. So let's just say I felt loved by the local media, and the Hartzell Power Couple™ were able to bring in lots of their environmental-artistic-cool friends to attend the event, too.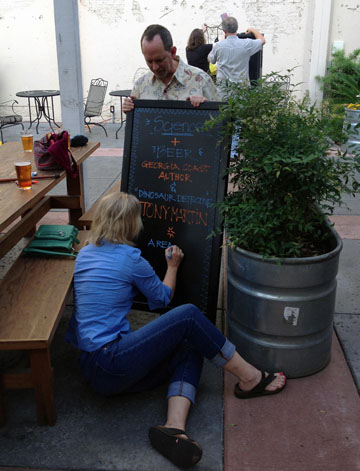 Savannah environmental artist Betsy Cain graciously offered her calligraphy skills for the sign advertising the event, to which I later added my artistic depictions of trace fossils (see the photo at top for our finished masterpiece). In the background, The Hartzell Power Couple™ set up the much-needed-and-appreciated sound system I later used to project ichnological bon mots.
My talk at the beer garden wasn't the usual formal slide show (i.e., Death by Powerpoint) we academics are expected to give almost by reflex nowadays. Instead, it was a totally different format adapted to the given circumstances. A lack of screen and projector, along with the outdoor setting and a nearby busy (and loud) city street, ensured that this would not be like any other talk I'd given about either book. Fortunately, at the urging of my ever-so-wise wife Ruth and the amazing resourcefulness of The Hartzell Power Couple™, I was able to get a microphone and speaker to speak over the urban din. But what to say, and how to say it without the support of pictures and oh-so-mesmerizing-and-persuasive bullet points?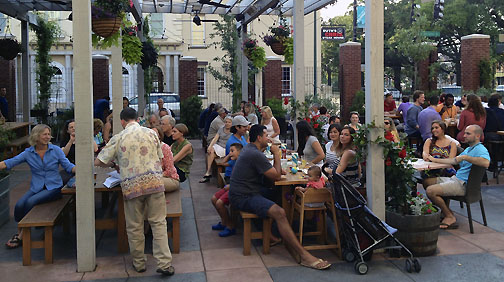 A good example of how science education is wherever you take it: Thursday evening at the Moon River Brewing Company beer garden in Savannah, Georgia.
Thus I decided to make this book presentation more of a lively piece of performance science, rather than a lecture. It was part informative – with "elevator speeches" about each book on why they mattered, punctuated by brief (less than two minutes) readings – and part interactive. The latter was mostly improv, in which I asked audience members to shout out the name of their favorite Georgia-coast animal, followed by my acting out that animal's tracemaking behavior, then describing what traces they would make from such behaviors. Alligator! Ghost crab! Sandhill crane! Fiddler crab!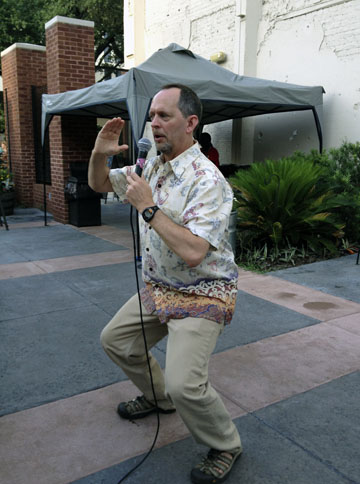 "Look at my claw!" There's nothing like a good fiddler-crab dance to warm up a crowd.
Science authors, if you're going to talk about your book in public, always make sure you have one as a prop so you can hold it up and say, "Have you heard the good news?"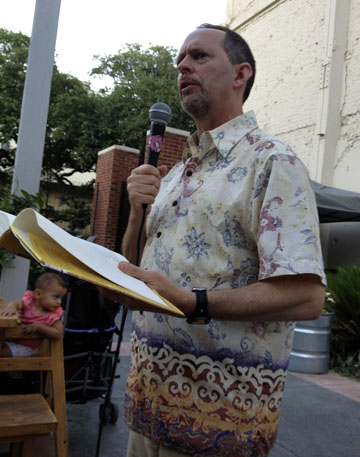 Babies dig ichnology.
Based on feedback from those there and my own perceptions of audience reactions, I thought the event went great. Not only did I have a good time, we even sold a few books. But something else that happened, and it was something that advocates of public-science outreach might note. I witnessed a subtle transformation in the people who were there at the beer garden just to have dinner, chat, and drink beer (and not necessarily in that order). First they ignored the "show" going on beside them, but soon they ended up listening, getting interested, and next thing you knew, they were (gasp) learning science.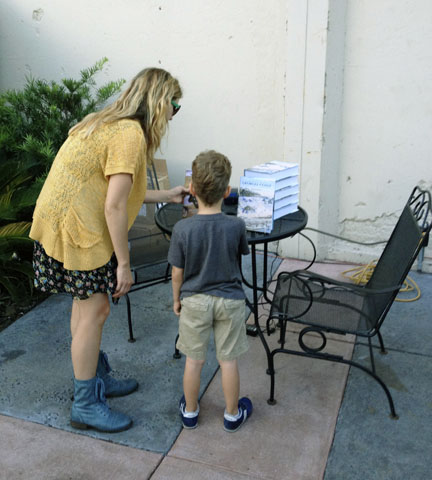 Afterwards, two science enthusiasts (mother and son) check out my books. One of those books went home with them, and may have later contributed to even more sciency goodness.

Ultimately, I hope my example introduced the Savannah community to the concept of a science tavern, which has been fantastically successful in Atlanta and is being adopted in several other U.S. cities. A key component of the Atlanta Science Tavern's success, though, is making sure scientists are on board with being clear, lively, original, and fun with their science. As much as this paleontologist hates to admit, beer can only take you so far.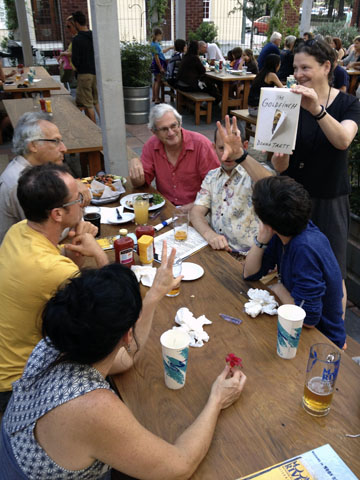 Somehow a copy of Donna Tartt's The Goldfinch ended up in the same box holding copies of my book Dinosaurs Without Bones. Seizing a teaching moment, I explain with my hand how this literary juxtaposition was completely appropriate, because goldfinches are dinosaurs, and their feet (and hence their tracks) show this ancestor-descendant relationship.

So for all of you science authors out there who love public outreach about the science and the beer you love, please flatter me through imitation and try this on for yourself, then let the rest of the world know how it went. Think of it as an experiment that requires much repeating. If it doesn't work, don't do it again. If it mostly works, then revise it based on suggestions by your peers (the audience, that is). It it works fantastically, do that again. Repeat until science is shared and beer mugs run dry. Good luck!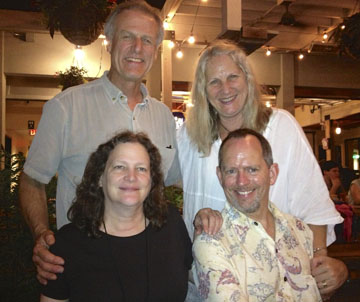 Many thanks to: Ann and Andrew Hartzell (left) for hosting Ruth and me (right) during our fun time in Savannah; Ruth for all of her expert photographic documentation and loving support; Joni Saxon-Giusti and Chris of The Book Lady Bookstore; Brandi Cockram of the Moon River Brewing Company; Savannah reporters Jessica Leigh Lobos, Leslie Moss, and Mary Landers; Betsy Cain; Robin Gunn; Sarah Ross; Craig Barrow; and all of those folks in the beer garden who didn't expect to get some science on a Thursday night out in Savannah. Hope it happens again to you soon.